Best Black movies on Tubi TV
From documentaries to Oscar winners to Blaxploitation, there's plenty of Black movies available right now on Tubi.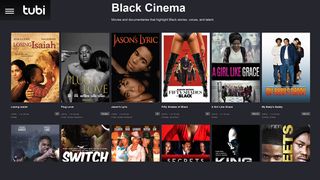 (Image credit: Tubi)
Tubi, a free, ad-supported streaming service, has thousands of hours of movies and TV shows ready to view, including a wide range of selections that highlight Black movies and artists.
Black cinema has a long and worthwhile history, which is why it's nice to see such a variety of black movies from different eras and genres as easily available as they are on the Tubi service.
Here's a rundown of the best Black movies on Tubi right now.
A Century of Black Cinema (2003)
While it may not sound like the most fun thing to do, it's always important to do your homework on any subject, and for a primer on a history on Black movies, A Century of Black Cinema is a good place to start. The film highlights key moments and figures from Black cinema history, including its social and political relevance through the years.
Afro Samurai: Resurrection (2009)
The world of anime got a whole new type of hero when Afro Samurai was introduced, a powerful warrior that was voiced by Samuel L. Jackson. Afro Samurai: Resurrection was a TV movie based off the popular series that saw Afro Samurai pick up his sword once again after a deadly foe desecrates his father's grave.
Joining Jackson in the voice cast was Lucy Liu, Mark Hamill, RZA, Ariel Winter, Grey Griffin and more.
Afro Samurai: Resurrection earned two Emmy nominations, one for Outstanding Animated Program (For Programming One Hour or More) and winning for Outstanding Individual Achievement in Animation.
Beyond the Lights (2014)
Gina Prince-Bythewood added to her underrated resume of directorial efforts with 2014's Beyond the Lights. The film stars Gugu Mbatha-Raw, Nate Parker and Minnie Driver, telling the story of a young pop star on the verge of a breakdown when she finds solace and a renewed drive in a young cop who helped her one night.
This is one of the early roles that put Mbatha-Raw on the map, as she is fantastic as the singer Noni. Minnie Driver also gives one of her better performances as Noni's controlling mother. A dominantly female creative team also included an Oscar-nominated original song from the great Diane Warren.
Candyman (1992)
Nia DeCosta and Jordan Peele brought Candyman back to life with this year's horror reboot, but the original Candyman from Bernard Rose and starring Tony Todd, Virginia Madsen, Kasi Lemmons, Xander Berkley and Vanessa Williams remains a cult horror classic.
Madsen stars as a grad student researching local myths when she stumbles upon the Candyman story from a Chicago neighborhood, only to discover just how real, and deadly it is as she summons the ghoul with a hook for a hand.
Watching the original should only add to your enjoyment if the recent telling of the story is the only one you've seen so far.
Dolemite (1975)
Eddie Murphy introduced a whole new range of people to Rudy Ray Moore and his most famous character, Dolemite, in the Netflix film Dolemite Is My Name, but what could be better than watching the original for yourself?
Dolemite is a classic film from the Blaxploitation era, a movie that the New York Times called "The Citizen Kane of kung fu pimpin movies." Moore stars as Dolemite, a pimp who after being released from prison goes after the criminals and corrupt police officers that framed him.
Good Hair (2009)
Chris Rock sheds a light on the history and culture surrounding Black hair in the 2009 documentary, Good Hair. Some of the things that the doc touches upon is the overall perception of Black hair, the chemicals and methods people use to style their hair and more. It certainly fits right in with more recent films that touched upon the same subject, Bad Hair and the Oscar-winning short Hair Love.
How Stella Got Her Groove Back (1998)
Based on the popular novel by Terry McMillan, How Stella Got Her Groove Back is a joyous rom-com that centers on a highly successful stock broker who is convinced to take a much needed vacation to Jamaica, where she finds said previously missing groove.
Angela Bassett stars as Stella, with a supporting cast that includes Taye Diggs, Whoppi Goldberg, Regina King, Suzzanne Douglas, Barry Shabaka Henley and Glynn Turman. Kevin Rodney Sullivan (best known for TV directing jobs, including The West Wing, 30 Rock, Modern Family and The Chilling Adventures of Sabrina) was behind the camera for this film.
The Long Walk Home (1990)
There have been numerous movies that depict crucial instances of the Civil Rights moments, including The Long Walk Home, which deals with the 1955 bus boycott in Montgomery, Ala., that was organized with the help of Rev. Martin Luther King Jr.
Whoopi Goldberg stars as a housekeeper for Sissy Spacek's housewife. As the bus boycott stirs up passions in Montgomery, the two women must decide how they will react to the vitriol and the effort for progress.
The Loving Story (2011)
Richard and Mildred Loving only wanted to enjoy their lives as husband and wife and raise a family. But because they were a biracial couple when that was illegal in Virginia, they took their case all the way to the Supreme Court.
Their story was fictionalized by Jeff Nichols, Ruth Negga and Joel Edgerton in 2016, but as a documentary The Loving Story shares points of the story from many of the people who lived it.
Notorious (2009)
You don't earn the nickname The Notorious B.I.G. without making an impact. That's certainly what Biggie Smalls did in rap, with the film Notorious sharing his life story and his tragic ending.
Jamal Woolard starred as Biggie Smalls (real name Christopher Wallace), while other stars included Anthony Mackie as Tupac Shakur, Derek Luke as Sean "Puffy" Combs and Angela Bassett as Biggie's mom.
George Tillman Jr. (Men of Honor, The Hate U Give) directed Notorious, which prior to Straight Outta Compton was one of the most well received biopics about a rapper to be adapted into a movie.
The Preacher's Wife (1996)
A remake of the Cary Grant film The Bishop's Wife from 1947, The Preacher's Wife swaps out the classic Englishman for Denzel Washington as an angel who comes to Earth to help a preacher and his wife save their family and church.
Washington is endearingly charming in the film, while it is also one of Whitney Houston's most iconic film roles, if for nothing else than her incredible performance of "I Believe in You and Me" during the film.
Directed by Penny Marshall, the cast also includes Courtney B. Vance, Gregory Hines, Jenifer Lewis, Loretta Devine and Lionel Richie.
The Preacher's Wife is a holiday classic, but who says you can't enjoy a bit of the Christmas spirit whenever you want?
Red Hook Summer (2012)
Spike Lee is one of the most influential Black filmmakers in the history of cinema, showcasing his voice and filmmaking talents in films like Da 5 Bloods, BlackKklansman and his masterful Do the Right Thing. Red Hook Summer is one of his lesser known films, but it's always a treat to watch a new Spike Lee joint.
Red Hook Summer tells the story of a middle-class boy from Atlanta who spends the summer with his religious grandfather in Red Hook, Brooklyn.
Sounder (1972)
Sounder is based on the novel by William H. Armstrong that tells the story of a family of Black sharecroppers living in the Depression-era South. The eldest son must come of age after his father is thrown in jail on the charge of stealing food and the family dog, Sounder, runs away.
Sounder starred Cicely Tyson and Paul Winfield as the parents, both of whom would receive Oscar nominations for Best Actress and Best Actor, respectively. Kevin Hooks starred as the son.
Sounder was a landmark film for both the story it told and the reception that it had among audiences, as it was one of the top grossing movies of 1972.
We Could Be King (2014)
When massive budget shortages forced the city of Philadelphia to close some of its high schools, Germantown High School and Martin Luther King High School, rivals for more than 40 years, were forced to merge.
We Could Be King is a documentary about the Martin Luther King High School football team and the 27-year-old new head coach that must deal with the tensions among his own team before he can try and build them into a winning program.
Sports typically make for some good theater, and that is definitely the case with We Could Be King.
Michael Balderston is a D.C.-based entertainment writer and content producer for What to Watch. He previously has written for TV Technology and Awards Circuit.
Get the latest updates, reviews and unmissable series to watch and more!
Thank you for signing up to Whattowatch. You will receive a verification email shortly.
There was a problem. Please refresh the page and try again.