Best Black movies on Tubi TV
Check out some of these great Black movies on Tubi for free.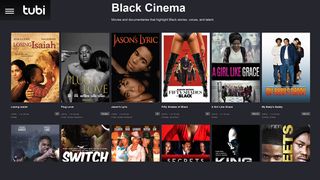 (Image credit: Tubi)
Tubi, a free, ad-supported streaming service, has thousands of hours of movies and TV shows ready to view, including a wide range of selections that highlight Black movies and artists.
Black cinema has a long and worthwhile history, which is why it's nice to see such a variety of black movies from different eras and genres as easily available as they are on the Tubi service.
Here's a rundown of the best Black movies on Tubi right now.
All About the Benjamins (2002)
Ice Cube and Mike Epps have become cinema's most underrated duos in comedy. Following the success of Next Friday in 2000, their follow-up action comedy All About the Benjamins is considered even funnier. The movie tells the story of a bounty hunter and con artist who are caught up with a group of diamond thieves. What happens next is a movie filled with action and laugh-out-loud moments. All About the Benjamins also stars Eva Mendes and Tommy Flanagan.
Baby Boy (2001)
Initially created as a vehicle for Tupac Shakur before his untimely murder in 1996, acclaimed director John Singleton resurrected his script through then newcomers Tyrese Gibson and Taraji P. Henson. The film tells the story of Jody, a grown man still living with his mother while juggling his children with two separate women. One of the greatest hood romances in modern cinematic history, Baby Boy works by being unflinching in both scenes and message. It's also one of the last films that Singleton both wrote and directed before his death in 2019.
Belly (1998)
Hype Williams may be known as one of the most respected music video directors to ever live. However, his legacy in movies shouldn't be scoffed at either. His one and only released movie as both director and writer, Belly is considered one of the most stylishly visual looks of Black films released in the '90s. Both Nas and DMX make their movie debuts as two street hustlers who find themselves going in separate directions as their profile gets higher. Then there's the classic soundtrack featuring tracks like D'Angelo's "Devil's Pie" and posse cut "Grand Finale" with DMX, Ja Rule, Nas and Method Man.
Blackstop Boneyard (2021)
Black horror films have seen a renaissance over the past decade thanks to the likes of Jordan Peele and Nikyatu Jusu. This has been reflected on the urban budget B-list tier of feature films as well. One great example on Tubi is Blackstop Boneyard. Taking place in the rural south, a group of white college age girls wind up on a haunted piece of land. The problem is that the land was stolen from two Black men wrongfully killed during the Civil War. Offering full out camp alongside some light racial commentary, Blackstop Boneyard is a captivating watch.
Diary of a Mad Black Woman (2005)
Following over a decade in the play circuit, Tyler Perry began his Hollywood dominance through Diary of a Mad Black Woman. Based on the play of the same name, the movie's core narrative was changed pretty significantly. It tells the story of a woman, played by Kimberly Elise, who must rebuild her life after being thrown out of her ex-husband's house. The movie also marks the cinematic debut of Madea, who is brought to life by Perry himself. Produced on a $5.5 million dollar budget, the film eventually grossed $50.7 million worldwide while inspiring dozens of sequels and spin-offs.
A Good Day for Everybody (2022)
Sounder is based on the novel by William H. Armstrong that tells the story of a family of Black sharecroppers living in the Depression-era South. The eldest son must come of age after his father is thrown in jail on the charge of stealing food and the family dog, Sounder, runs away.
Sounder starred Cicely Tyson and Paul Winfield as the parents, both of whom would receive Oscar nominations for Best Actress and Best Actor, respectively. Kevin Hooks starred as the son.
Sounder was a landmark film for both the story it told and the reception that it had among audiences, as it was one of the top grossing movies of 1972.
Menace II Society (1993)
The pinnacle of the urban drama that began its mainstream dominance following Boyz n the Hood's ground breaking release, Menace II Society is pure hood hedonism. Directed by the Hughes Brothers in their directorial debut, the story of Kayden "Caine" Reeves (Tyrin Turner) is both beautiful and ultimately tragic. Following the day in the life of Caine, an adolescent living in Watts with his grandparents, the film revolves around the relationship with his homie O Dog (Larenz Tate) and love interest Ronnie (Jada Pinket Smith). Menace II Society is a brutal and violent look into inner city Los Angeles during the early '90s.
Secret Society (2021)
One of the boldest crime dramas in the indie urban genre in recent years is Secret Society. The film is about two gold diggers hiding a massive secret. Once that gets out, it threatens to ruin their hustle and even their lives. Ironically, the massive plot twist is revealed within the first 15 minutes. What happens next is an interesting story about sex work and the plight of trans women in a world that problematically exploits them. The film is also directed by Jamal Hill, known for his work in budget cult classics including Brotherly Love and Deuces.
Sons of a Preacher (2023)
One of the few urban dramas made for families, Sons of a Preacher is a unique faith-based film with some solid acting and cinematography. The life of a family is ripped apart once a pastor of a church kicks his son out of the house for not living to his standard. With the other son becoming head of the church following the death of the preacher, he tries to get the wayward son to return. Sons of a Preacher is an interesting take on the Prodigal Son through the lens of the Black church.
Tiffany the Doll (2022)
Another horror film on the list, Tiffany the Doll recently went viral through social media due to its over the top tendencies blending with exceedingly low budget. Directed by Felicia Rivers, Tiffany the Doll blends man-killer fantasy of sci-fi cult classic Species with obvious allusions to killer doll horror subgenre made popular through Child's Play (and more recently, M3GAN). Tiffany the Doll is literally about killer sex dolls who have a thing for murdering their unsuspecting owners. Despite taboos within the Black community about sex, the themes of the film about sex are fairly radical between the hilarious dialogue and murder scenes.
Get the latest updates, reviews and unmissable series to watch and more!
Ural Garrett is an Inglewood,CA-based journalist and content curator. His byline has been featured in outlets including CNN, MTVNews, Complex, TechRadar, LA Weekly and more.
Thank you for signing up to Whattowatch. You will receive a verification email shortly.
There was a problem. Please refresh the page and try again.