The best movies on The Roku Channel
Check out these classic movies for free on The Roku Channel.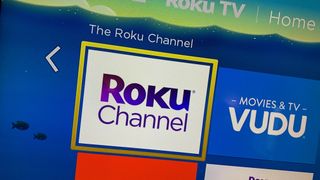 (Image credit: WhatToWatch.com)
Roku has become one of the most popular streaming devices in the U.S., available to consumers as a plug-in dongle or integrated directly into a smart TV. But it's more than just an easy way to access other streamers, it has its own streaming service, The Roku Channel (opens in new tab).
An ad-supported streaming service, The Roku Channel offers a slate of classic movies for free ranging across all different genres. Users can also sign-up for premium subscriptions to get access to movies on cable channels like Showtime, Starz, Epix and AMC+.
Get a look at some of the best movies on The Roku Channel right now.
American Animals (2018)
You have to love a good heist movie, which is why it was a little surprising that American Animals — despite strong reviews — didn't do better during its initial release. But, that's one of the benefits of streaming, getting the chance to catch up on something you may have missed the first time around.
American Animals tells the true story of college students who attempt to steal a book from the university library that is supposed to be worth millions. Director Bart Layton was known for documentaries (The Imposter), which likely inspired a unique choice to blend the narrative telling of the story featuring actors (Evan Peters, Barry Keoghan, Blake Jenner and Jared Abrahamson) with interviews of the real-life people the story is based on.
It's a fun ride that fits right into the wheelhouse of anyone intrigued by true-crime stories.
Basil Rathbone Sherlock Holmes Films
The actors most associated with Sherlock Holmes today are either Robert Downey Jr., who played him on the big screen for Guy Ritchie, or Benedict Cumberbatch, who did so in the popular BBC series. Still, one of the most iconic portrayals of Sherlock Holmes belongs to Basil Rathbone, who played the master detective in 14 films between 1939 and 1946.
Five of Rathbone's films are available to watch for free on The Roku Channel — Sherlock Holmes and the Voice of Terror, Sherlock Holmes and the Secret Weapon, The Woman in Green, Terror by Night and Dressed to Kill.
See how the screen's original Sherlock Holmes compares to our modern day versions of the sleuth.
The Big Short (2015)
Adam McKay, who prior to 2015 was best known as the director of Anchorman and Step Brothers, was not the most likeliest director to adapt Michael Lewis' book on the U.S. mortgage crisis that spurred the great recession of the late 2000s. But the comedic director was able to bring a unique storytelling technique to this dense topic.
With complicated financial practices key to the plot of the film, McKay, who won an Oscar for the script with Charles Randolph, used celebrity cameos from Margot Robbie, Anthony Bourdain and Selena Gomez to try and simplify the material. It was a fun tool employed by the film.
Christian Bale, Steve Carell, Ryan Gosling, Jeremy Strong, Brad Pitt, Tracy Letts, Marisa Tomei, Rafe Spall and a lot more recognizable faces star.
Blood Diamond (2006)
Leonardo DiCaprio had himself quite the year in 2006. In addition to starring in Martin Scorsese's Best Picture-winning The Departed, DiCaprio also earned an Oscar nomination for his performance in Blood Diamond.
The film, directed by Edward Zwick, takes place in the 1990s amid the civil war in Sierra Leone, as a smuggler and fisherman attempt to retrieve a rare diamond. Djimon Honsou (also Oscar nominated for his role) and Jennifer Connelly star in this social-political action film - giving a different perspective on a world topic and providing plenty of entertaining set pieces that keep the film lively.
Galaxy Quest (1999)
Despite not taking place in the actual Star Trek universe, many Trekkies consider Galaxy Quest to be one of the best examples of what a Star Trek movie can be.
Tim Allen, Sigourney Weaver, the late, great Alan Rickman, Tony Shalhoub, Sam Rockwell and Daryl Mitchell make up the group of actors from a now cancelled TV show that are mistaken as a real space crew by a group of aliens seeking their help.
Galaxy Quest is an homage to both the series it is spoofing and the fandom that surrounds it, but it also is just a fun space adventure with plenty of laughs that has amassed its own cohort of loving fans over the years.
Halloween (1978)
No matter what time of year it is, horror fans always know it's a good time to watch Halloween. Spawning a multitude of sequels and reboots, Halloween and its killer Michael Myers are among the most recognizable horror franchises around. Always hard to top the original, though.
John Carpenter's original tale of teenager Laurie Strode's (Jamie Lee Curtis) first encounter with Michael Myers follows a style that you wish more horror films would adhere to — keep it simple. The scares come from the silent, unrelenting pursuit that Myers has for his victims, always lurking behind them eager to strike.
Plus, that William Shatner mask is just creepy.
The Hunger Games franchise (2012-2015)
The Hunger Games was one of the largest franchises of the 2010s, with its four films racking up big money and star Jennifer Lawrence seeing her celebrity status shoot up into the stratosphere. You can rewatch the entire Hunger Games series right on The Roku Channel.
Lawrence stars as Katniss Everdeen, a girl from one of 12 subjugated districts in a dystopian world. Each year, a teenage boy and girl from each district is chosen to compete in a fight-to-the-death tournament called the Hunger Games, with Katniss ultimately forced to participate. However, as she competes she becomes a symbol of defiance to those in power, lighting the spark of revolution that the franchise uses as its base for all four films.
Josh Hutcherson, Woody Harrelson, Elizabeth Banks, Donald Sutherland, Liam Hemsworth, Lenny Kravitz, Stanley Tucci, Jena Malone, Julianne Moore, Philip Seymour Hoffman and more star in the franchise.
Major League (1989)
Baseball has some of the best sports movies ever made, and among them is Major League about a loveable bunch of has-beens and never-was playing for the Cleveland Indians (this will admittedly be weird in a few years as Cleveland is changing its real-life team name to the Guardians).
The premise of Major League is that the new Cleveland owner wants to move the team, so she assembles a bunch of misfits with the goal of having them finish dead last to cause attendance to hit a level where she can relocate. However, the team — featuring Charlie Sheen's Ricky "Wild Thing" Vaughn, Wesley Snipes' Willie Mays Hayes and Tom Berenger's veteran catcher Jake Taylor — comes together and threatens to do something nobody saw coming, be good.
It's a great ensemble cast, including legendary broadcaster Bob Uecker, that makes Major League such a winning film.
Memento (2001)
Before Christopher Nolan was one of the biggest filmmakers on the planet, he broke out with the smaller-scale film Memento. However, his love of distorting how a story unfolds for an audience was always present.
Memento stars Guy Pearce as a man who suffers from short-term memory loss attempting to find whoever killed his wife. As the story plays backwards, we learn, along with Leonard, just how dark this path has taken him.
While films like The Dark Knight trilogy, Inception and Dunkirk have proved Nolan to be a master filmmaker, the case can be made that Memento remains his best movie from top to bottom.
Night of the Living Dead (1968)
Zombies are just about everywhere nowadays, from prestige TV with The Walking Dead to an aspiring Netflix universe that got kick-started with Zack Snyder's Army of the Dead. It can all be traced back to a little film made in the woods of Pennsylvania in the late 1960s.
Night of the Living Dead was the creation of George Romero and was the jumping off point for where future filmmakers would take zombies — though Night of the Living Dead never actually calls its mindless ghouls zombies.
Even though it established many of the rules that would be used for most zombie stories going forward — i.e. zombies being slow-moving, people being bitten turning into zombies — Night of the Living Dead is more about the people trapped inside the central house for most of the film and the paranoia they experience while trying to survive.
Paddington (2014)
Sometimes we all just need to remember the importance of being kind to one another, and few films do that better than Paddington. Based on the classic children novel, the film adaptation of the talking Peruvian bear who travels to London may be a children's film, but it has the ability to warm the hearts of just about everybody.
Ben Whishaw voices Paddington, who after finding himself lost in London, is welcomed in by the kindly Brown family. Though of course some wild antics ensue with a talking bear living in their midst, Paddington helps the Brown's better connect as a family.
The Paddington franchise, shepherded by director Paul King, has been universally praised for its first two films, with a third expected in the near future.
Raising Arizona (1987)
Raising Arizona was not the first time audiences were introduced to the Coen brothers — that would be Blood Simple a few years earlier — but is the first time we saw just how wonderfully weird they could be.
Nicolas Cage is an ex-con who marries Holly Hunter's ex-cop. When they realize that they cannot have children, they decide to take one from a set of local quintuplets, assuring themselves that the family wouldn't mind having one less mouth to feed. Of course that's not the case, as a chase ensues to get the baby back.
Raising Arizona also served as the first time that the Coens would work with one of their greatest collaborators, John Goodman.
Rudy (1993)
One of the "guy cry" films, Rudy is inspired by the true story of Daniel "Rudy" Ruettiger, a diminutive Notre Dame die-hard who works endlessly to achieve his dream of playing for the Fighting Irish.
Sam Astin stars in the film, along with Jon Favreau, Ned Beatty, Charles S. Dutton, John Beasley, Ron Dean, Chelcie Ross and Vince Vaughn.
College football fan or not, if the sight of the tiny Rudy among the goliaths on the field and the film's uplifting score don't get you cheering I don't know what to say, but you'd be among the few.
The Silence of the Lambs (1991)
Ever since Anthony Hopkins' Hannibal Lecter met Jodie Foster's Clarice Starling, film and TV creators have been trying to recapture the magic that made The Silence of the Lambs so successful. There have been some varying degrees of success — the Mads Mikkelsen-led Hannibal was a good entry, the more recent CBS series Clarice less so — but nothing has been able to hold a candle to the 1991 Best Picture winner.
The Jonathan Demme-directed film is an expertly executed thriller (the final night-vision encounter scene is just one brilliant example) featuring two all-time performances from Hopkins and Foster, not to mention Scott Glenn, Ted Levine and Kasi Lemmons in support.
Don't settle for the imitations or spinoffs when one of the greatest movies ever made is available right at your fingertips.
Silver Linings Playbook (2012)
I admittedly have a bias for Silver Linings Playbook because of my Philadelphia roots as a central part of the film is the characters' love for Philly sports teams (I nearly stood up clapping seeing Jennifer Lawrence's monologue listing off a particularly memorable stretch of Philadelphia victories when I first saw it in theaters). But there's plenty to love for those not inclined to root for the Philadelphia teams.
The film, from director David O. Russell, has a frenetic energy as Bradley Cooper's Pat tries to get his life under control following a stint in a mental hospital and forms a connection with Jennifer Lawrence's Tiffany, who has problems of her own. Robert De Niro, Jackie Weaver, Shea Wigham, Chris Tucker and Anupam Kher also give memorable performances.
For all the craziness involved with Silver Linings Playbook, it ultimately is a heartwarming story about a family discovering the balance and support they all need.
Stagecoach (1939)
When you think of westerns, John Wayne is probably the first person that pops into your head. He starred in countless stories from the back of a horse, many of them with director John Ford. Stagecoach was the first time the two worked together, and it still holds up as one of their best.
Stagecoach tells the story of a group of people forced to travel together via stagecoach through dangerous territory. Wayne gave a star-making turn as the Ringo Kid and Ford's shooting of one particular action sequence is impressive even by today's standards.
It may be more than 80 years old, but Stagecoach is just as thrilling today as it was when it was first released.
The Truman Show (1998)
The Truman Show is kind of a warning against the rise and scope of reality TV; we clearly didn't listen. Even so, the film starring Jim Carrey (in one of his best roles) is a fantastic dramedy about one man's attempt to break free from the fake world built around him to find something truly real.
The case could be made the Carrey deserved an Oscar nom for his performance, but his co-star Ed Harris did get one in his great performance as the creator and god-like presence of the show starring Carrey's Truman. Peter Weir (also nominated) directs the rest of the cast that includes Laura Linney, Noah Emmerich, Holland Taylor, Natascha McElhone and more.
The Untouchables (1987)
One of Brian de Palma's best films, The Untouchables is a classic crime story starring Kevin Costner, Robert De Niro, Andy Garcia, Charles Martin Smith, Richard Bradford, Patricia Clarkson and Sean Connery, who won his only career Oscar for his supporting performance.
The Untouchables tells the story of Elliot Ness as he goes up against gangster Al Capone in Prohibition era Chicago. The script comes from David Mamet.
With The Untouchables you get an all-time performance from Connery, a fun turn from De Niro as Capone and some great cinematic shootouts (particularly the train station scene), which all combine for an enthralling crime saga.
Get the latest updates, reviews and unmissable series to watch and more!
Michael Balderston is a DC-based entertainment and assistant managing editor for What to Watch, who has previously written about the TV and movies with TV Technology, Awards Circuit and regional publications. Spending most of his time watching new movies at the theater or classics on TCM, some of Michael's favorite movies include Casablanca, Moulin Rouge!, Silence of the Lambs, Children of Men, One Flew Over the Cuckoos Nest and Star Wars. On the TV side he enjoys Peaky Blinders, The Marvelous Mrs. Maisel, Saturday Night Live, Only Murders in the Building and is always up for a Seinfeld rerun. Follow on Letterboxd (opens in new tab).
Thank you for signing up to Whattowatch. You will receive a verification email shortly.
There was a problem. Please refresh the page and try again.