'The Good Karma Hospital' season 4: cast interviews, plot, episode guide, and everything we know
'The Good Karma Hospital' season 4 will take us back to South India for more of the ITV medical drama.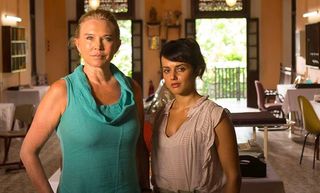 (Image credit: ITV)
Fans have been desperate for news of The Good Karma Hospital season 4 and we were all delighted when ITV confirmed production is finally underway!
Set in Southern India and shot on location in Sri Lanka, Dan Sefton's warm-hearted yet powerful drama gained an average audience of 5.9m viewers across series 3 last year.
The medical show follows junior doctor, Ruby Walker, who left the UK to find a new life in India to work at The Good Karma Hospital, an under-resourced and overworked cottage hospital run by an eccentric English ex-pat, Dr. Lydia Fonseca. Here's everything we know about the fourth season...
The Good Karma Hospital season 4 release date
The Good Karma Hospital season 4 will premiere on ITV and ITV Hub at 8pm on Sunday 23rd January 2022. The series will run for six episodes, with the finale airing on Sunday 6th March.
We're back! Absolutely thrilled to announce that the filming for season 4 of #goodkarmahospital is well underway. Coming soon to @ITV pic.twitter.com/uwk1zihmRlOctober 7, 2021
What happened in episode 1? Contains spoilers!
Ruby is still reeling from Gabriel's departure. When she encounters a patient in a rural village with a highly contagious and deadly virus, she and new volunteering doctor, Mr. Samir Hasan take a risk and transport the girl to The Good Karma Hospital.
Lydia and Ram recognise the Nipah virus. Ram begs Lydia to follow the rules and send them back to the village, but Lydia overrules him. Not only does Lydia risk an outbreak but she incurs the wrath of local politician Hira Grover. It's a threat to the longevity of The Good Karma Hospital.
When Ram discovers that his new headstrong trainee doctor, Dr. Nikita (Niki) Sharma has also ignored him and broken patient-confidentiality, Ram is livid and reminds her she still has a lot to learn. Meanwhile Greg meets Frankie and her neurodiverse son Bobby.
What happened in episode 2? Contains spoilers!
After a long two-weeks, Ruby, Samir and Mari are released from quarantine. Lydia is impressed by Samir, but refuses to show it, as he asks to see the Nipah patient – Karishma -- settled into HDU. When Samir loses his job with his NGO, a fast-thinking Lydia offers him work at The Good Karma Hospital. Although Mari is secretly pleased Samir is joining the staff, he soon rubs her up the wrong way but it this just the beginning of a fiery relationship?
Meanwhile Ruby's anger at life is getting the better of her. She offends a patient's daughter – Mia Balan – with her brusque manner. Lydia steps in and diagnoses Mia's mother Bhoomy with mercury poisoning from the skin lightening creams she uses to hide her true low-caste identity. But tensions come to a head when Ruby punches her boxing instructor hard enough to rupture her spleen and Lydia insists on Ruby explaining what's going on.
Conversations about Ruby needing time off are paused when she receives devastating news about her father, just as Frankie realises that Bobby is missing from his hospital bed and Greg discovers that the process of getting arrested has alerted immigration to the fact that he doesn't have a Visa…
What happened in episode 3? Contains spoilers!
The happy news that Karishma is awake is dampened by how lonely and unhappy she is. Samir has a brainwave and despite Lydia's distrust of clowns, invites local magicians Jay Jay and Prakash to the hospital to perform tricks. Mari discovers missing bottles of fentanyl from the hospital, and Samir returns to the circus convinced the clowns must have stolen them.
But when he sees Jay Jay overdosing and rushes her back to Good Karma in an ambulance, he discovers something much worse and needs Lydia's help to understand why Jay Jay won't agree to palliative care. Samir shows Prakash how to alleviate Jay Jay's terminal ovarian cancer symptoms at home so that she may continue to perform magic.
Frankie is still desperate to find her missing son and Niki volunteers to drive Frankie to search for him at a local bird sanctuary. When they find him, Frankie's protective instincts go into overdrive and Bobby is humiliated. Niki discovers that empathy maybe the best medicine, although Frankie's cancer worries require urgent tests.
Finally, Greg gathers the courage to tell Lydia about his Visa. Despite being certain she can solve any problem; Lydia soon runs out of options and desperately turns to politician Hira Grover for help. Hira refuses to help the egotistical doctor who risked a Nipah outbreak. Just as it seems Lydia will lose Greg forever; Ram makes a suggestion which might just work if Lydia wasn't still married to her ex-husband…
What happened in episode 4? Contains spoilers!
When Hindu priest Ramesh Kurup ends up at The Good Karma Hospital he is accompanied by his Muslim best-friend Moideen Pathan. Ramesh's kidneys are failing but he refuses dialysis and so Moideen suggests he donates a kidney on a donor exchange programme.
Moideen's son Anwar, an Imam, is horrified that his father wants to give a kidney to a Hindu. In trying to prevent the tests being sent off, he accidentally knocks Lydia to the ground. When Lydia speaks to Anwar about his fears and reminds him that love is more important than fear, Anwar volunteers to donate a kidney for Ramesh in his father's stead, winning back Moideen's respect.
Meanwhile, Samir and Mari are at an ashram for a general clinic when Dr. Priya Kapoor goes into early labour with twins. Despite the odds, Samir and Mari deliver a healthy boy, but the second twin is breech, and the cord is prolapsing. The head is trapped, and the baby arrives lifeless. Memories of Samir's own loss come rushing back to him.
Niki gives Bobby the opportunity for independence he craves and helps him to buy and cook dinner. When it starts to go wrong, Frankie accuses Niki of overstepping the mark, but it turns out to be exactly what mother and son needed.
Before Mari and Samir leave the ashram, Gabriel appears unexpectedly – he's the surgeon for tomorrow's clinic. An apoplectic Mari punches him and as Samir's stitching his face, Gabriel extracts crucial information about where to find Ruby…
What happened in episode 5? Contains spoilers!
Ruby is staring unbelievingly at Gabriel, who has appeared unannounced at her dying father's hospice. She can't contain her anger over the fact he abandoned her, but still Gabriel refuses to leave. He can see that Ruby is exhausted and is so busy worrying about Amit's medical needs she's neglecting her role as daughter. Begrudgingly, Ruby permits Gabriel to stay.
Meanwhile at the Good Karma Hospital, Lydia has taken a 'personal day'. Niki is thrilled; this is her chance to prove herself by overseeing admissions. Brushing off Ram's warning about overconfidence, Niki begins treating a sleepy, young boy – Shaan Murthy – who arrives with a broken wrist and alcohol in his blood.
Shaan's father Venkat arrives at the hospital in time to see Shaan collapse. Ram is dismayed by Niki's mistake in failing to get a full medical history but allows her to redeem herself in surgery. When Shaan rejects his father's promise to help tackle his drinking, Niki turns to Ram to help her process the emotional toll of life at The Good Karma Hospital.
Lydia has arrived at her nearly ex-husband's house. She's there to finalise her divorce papers, but Jules senses that she is looking for closure too. A trip to perform an anterior dislocation reduction on local farmer Mehin proves surprisingly intimate and it's clear to Lydia how easy it would be to slip back into the old way with Jules.
As Lydia tries to leave, Jules says the thing that she fears the most. Is she really going to be able to make a second marriage work when she's unable to give all of herself to anybody?
Samir and Mari are finally taking Karishma back to her village. Karishma's concerns about being forgotten by her brother bring Mari and Samir closer together as they soothe her anxieties. But once at the village's Raksha Bhandan celebrations, Samir is reminded more profoundly of the daughter he lost. Aware of his pain Mari again proves a great comfort to Samir – but is this just a friendship or more?
When the worst happens, and Amit dies, Ruby feels alone again in the world. There's nothing Gabriel can say. But he still refuses to leave. Ruby says goodbye to her father with Gabriel by her side.
What happened in the series 4 finale? Contains spoilers for episode 6!
It's the morning of Greg and Lydia's wedding. Lydia still has doubts and Greg is also feeling uneasy. But when Lydia sees Greg dressed for the ceremony in flamboyant Indian dress, all her fears dissipate.
Ruby and Gabriel come across an upturned car on the road. Inside, they find Bharat Chandra, his daughter Mishka, with injuries to her face and Tulsi, Bharat's wife, who has a shard of glass penetrating her neck.
Ruby and Gabriel arrive at Good Karma with the family and Lydia leaves Greg at the altar to go take charge of the chaos. She instructs Ruby to lead the operation to save Tulsi and makes Gabriel supervise Samir's attempts to save Mishka's eye.
Lydia is ready to return to the wedding, but Greg has found a letter from her ex-husband and is devastated. Greg heads off leaving Lydia to deal with Tulsi whose soft tissues are swelling post-operatively.
Overcome, Bharat takes a blade to the neck of the truck driver who caused the crash. Niki gets caught in the crossfire and Greg must save both lives as Lydia watches, frightened by the thought of losing Greg.
Match-maker Niki decides to intervene with Mari and Samir. And with the power-dynamics between Ruby and Gabriel addressed, it's up to Ruby to decide what she wants from Gabriel…
The Good Karma Hospital season 4 cast
Amanda Redman (Sexy Beast & New Tricks) will return as Dr Lydia Fonseca, Ruby Walker's mentor and the manager of everyday operations at The Good Karma Hospital, while Amrita Acharia (The Sister & Game of Thrones) will be back as Ruby.
Neil Morrissey (Line of Duty & Men Behaving Badly) will reprise his role as local bar owner and Lydia's boyfriend, Greg McConnell, while Darshan Jariwala returns as Dr Ram and Nimmi Harasgama will play Nurse Mari once again.
Also joining as series regulars are Harki Bhambra (Our Girl & Call The Midwife) who plays high-flying and charismatic Dr Samir Hasan, a British Asian surgeon who has left Britain for India for reasons that prove too traumatic to share. Will anyone be able to get him to open up?
Rebecca Ablack (Ginny & Georgia & Let It Snow) also joins playing confident and dynamic Dr Nikita 'Niki' Sharma, a young, newly qualified doctor whose father is a highly successful surgeon in Kochi and who has insisted all his children spend a year doing something 'difficult'.
Will Dr Sharma shy away from the hard work and responsibility Dr Lydia Fonseca will demand or will she learn the lesson her father so desperately wants her to learn?
Meanwhile Raquel Cassidy (Downton Abbey & Teachers), Ace Bhatti (Line of Duty, Baptiste & Alex Rider), Connor Catchpole (Enola Holmes & Pursuit of Love), Chetna Pandya (Feel Good & This Way Up) and Jonas Khan (Our Girl & The Ipcress File) will join as guest cast for key storylines through the series...
Amanda Redman on 'The Good Karma Hospital' series 4
"After such a difficult and challenging year for the whole world and film industry it's an honour to return to our beloved Sri Lanka with its wonderful film crews and actors to make this much-loved series four possible," says Amanda. "We can't wait to get started. The storylines are bigger and better than ever."
Meanwhile Catherine Mackin, Managing Director of Acorn Media Enterprises, said...
"The Acorn TV audience have greatly enjoyed this heart-warming journey of love, loss, family, friends, and so much more – all led by the imagination of Dan Sefton, his brilliant writing team and an absolutely stellar cast. We are thrilled to join as co-producers on series four."
Is there a trailer for The Good Karma Hospital series 4?
Not yet, but we'll be sure to post it here when it lands. In the meantime, you can enjoy a slice of sunshine with the trailer for the first series below...
Feature writer for TV Times, What's On TV, TV & Satellite Week and whattowatch.com
Sean has been writing about all things telly for over 10 years and in that time he's been lucky enough to interview stars like Ian McKellen, Tom Hardy and Kate Winslet. His favourite shows are The Great British Bake-Off, People Just Do Nothing and Succession and in his spare time he enjoys drinking tea, doing crosswords and watching football.
Thank you for signing up to Whattowatch. You will receive a verification email shortly.
There was a problem. Please refresh the page and try again.