Top 10 movies on Netflix right now
By BJ Colangelo
The kids may seem like they're in control of the Netflix account, but action thrillers still reign supreme.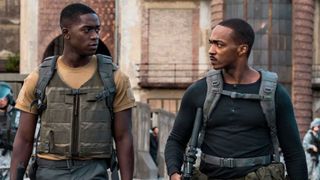 (Image credit: Netflix)
Finding entertainment while being stuck at home has never been easier thanks to the Wild Wild West of streaming services, but nothing paints a more questionable picture of all of our streaming habits than the Netflix provided Top 10 most popular films list. Surprising absolutely no one, the current Top 10 leans heavily toward films for the whole family and new release Netflix exclusives. Nestled between them, however, are a few eyebrow raising choices that somehow managed to steal the hearts and time of streamers all over the world to wind up on the most-watched list.
Check back every other week with this constantly updating list of what we're all watching, for better or for worse.
10) Death of Me
In the newest venture from prolific horror director Darren Lynn Bousman, Death of Me is about a couple (played by Maggie Q and Luke Hemsworth) vacationing and waking up in their completely trashed hotel room with no recollection of the night before. Soon after, the duo discover a video that shows one of them killing the other. Now the two must figure out just what was captured on the video, and more importantly, how they're viewing footage that seems to have impossibly already happened, or is soon to occur. A mind-melting thriller on the surface, Death of Me is complicated chaos with questionable pacing, but audiences continue to prove that they're always down to watch the newest horror releases.
09) The Secret Life of Pets 2
An adorable and funny insight into the emotional lives of our favorite furry friends, The Secret Life of Pets 2 hopes to answer the age old question: What are our pets doing when we're not around? The sequel to the original smash-hit, we revisit Max the Terrier (Patton Oswalt) who has now developed a nervous tic out of worry to protect his owner (Ellie Kemper)'s new toddler, Pomeranian Gidget (Jenny Slate) has to rescue Max's favorite toy from an apartment overrun with cats, and Snowball the bunny (Kevin Hart) joins forces with a Shih Tzu named Daisy (Tiffany Haddish) to complete a dangerous mission and prove he's more than just cuddly and cute. Kids love the silliness and animation, and adults can love all of the jokes that fly over their kids' heads.
08) Double Dad
In this light hearted comedy from Brazil, Double Dad is about an 18-year-old woman named Vicenza (Maisa Silva) who has lived in a hippie commune all her life and sneaks out into the real world to find her biological father while her mother is away. Upon her journey, Vicenza comes face to face with not one, but two possible fathers, while experiencing the "real world" outside of her commune for the very first time. Less campy than Mama Mia but definitely channelling a similar energy, this one isn't breaking any new ground but is a great random afternoon feel-good flick.
07) Good Burger
"Welcome to Good Burger, home of the Good Burger, can I take your order?" 90s kids are clearly in control of the remote (or laptop?) by putting one of Nickelodeon's most popular films on the Netflix top 10. The film follows Kenan Thompson and Kel Mitchell as Dexter and Ed, two unlikely friends who realize they must work together to help save their jobs at Good Burger after the popular competitor, Mondo Burger, sets up shop across the street. Ed creates a secret sauce that seems like the key to saving the restaurant, but not if the dastardly Kurt Bozwell (Jan Schweiterman) has a say in it.
06) Crack: Cocaine, Corruption & Conspiracy
In one of the latest documentaries for Netflix, veteran documentarian and activist Stanley Nelson Jr. blasts an interrogation lamp on what really happened during the crack epidemic of the early 1980s by debunking the racist nonsense perpetuated from the Reagan administration, as well as showcasing the longstanding impacts the epidemic has on Black and Brown communities across the country. It's a sobering look at one of the greatest injustices in American history, and one that has continued to motivate bigoted attitudes and treatments of marginalized communities even today.
05) Pinkfong & Baby Shark's Space Adventure
"Baby Shark doo doo doo doo da doo…Baby Shark doo doo doo doo da doo...Baby Shark doo doo doo doo da doo...Baby Shark...IN SPACE! Pinkfong the Fox and Baby Shark are joined by friends from all over the galaxy as they explore space in this sing-a-long your kids are going to make you listen to 20 times a day until your head explodes.
04) Penguins of Madagascar: The Movie
In the surprising mega-hit for Dreamworks, Penguins of Madagascar: The Movie elevates the wildly popular Nickelodeon show of the same name into a computer-animated spy comedy the whole family can enjoy. Elite spy penguins Skipper (Tom McGrath), Kowalski (Chris Miller), Rico (Conrad Vernon) and Private (Christopher Knights) join up with the North Wind, an undercover organization led by Agent Classified (Benedict Cumberbatch) to take down the villainous Dr. Octavius Brine (John Malkovich) before the evil genius can fulfill his plot to take over the world.
03) We Can Be Heroes
A massive hit for Netflix, the Sharkboy and Lavagirl spin-off, We Can Be Heroes is about a team of kids who must save their parents (and the world) after aliens kidnap all of the world's superheroes. Showcasing the family-friendly action comedy skills established in Spy Kids, Robert Rodriguez' newest film is an absolute delight, with standout performances from Priyanka Chopra Jonas, Pedro Pascal, YaYa Gosselin, Boyd Holbrook, Adriana Barraza, Sung Kang, Taylor Dooley, and Christian Slater.
02) The Vanished
It couldn't be a Netflix top 10 list without an appearance by an action-thriller! Starring Anne Heche, Thomas Jane, Jason Patric, and Alex Haydon, The Vanished tells the story of a family's vacation taking a turn for the terrible when a couple realizes their daughter has disappeared. After the cops prove to be totally useless, the couple desperate for answers decide they will stop at nothing to find her, by any means necessary. Critics seemed to hate it, but audiences seem to love it. Watch for the film's final reveal and decide for yourself.
01) Outside the Wire
Set in the not-so-distant future, genre favorite Mikael Håfström's newest sci-fi film Outside the Wire, stars Anthony Mackie as Leo, an advanced biotechnical android officer who joins up with a drone pilot named Lt. Harp (Damson Idris). Typically serving the war by piloting drones from behind the safety of a computer screen, Harp's newest mission forces him to experience the gruesome realities of war firsthand while traveling through a war zone in a race against the clock to recover nuclear codes before terrorists can get their hands on them. A futuristic war film that forces audiences to reckon with the United States' place in global affairs, Outside the Wire is willing to show its social commentary on its sleeve.
Get the latest updates, reviews and unmissable series to watch and more!
Thank you for signing up to WhatToWatch. You will receive a verification email shortly.
There was a problem. Please refresh the page and try again.