Top 10 movies on Netflix right now
By BJ Colangelo
There's a new popular kid in town, and their name is 'Fear Street'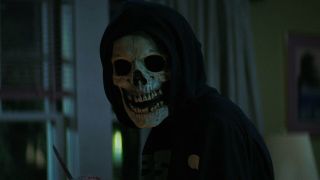 (Image credit: Netflix)
Finding entertainment while being stuck at home has never been easier thanks to the Wild Wild West of streaming services, but nothing paints a more questionable picture of all of our streaming habits than the Netflix provided Top 10 most popular films list. Surprising absolutely no one, the current Top 10 leans heavily toward films for the whole family and new release Netflix exclusives. Nestled between them, however, are a few eyebrow raising choices that somehow managed to steal the hearts and time of streamers all over the world to wind up on the most-watched list.
Check back every other week with this constantly updating list of what we're all watching, for better or for worse.
10. Wish Dragon
Good news! There's a new animated feature for your children to obsess over that you'll love too! In this very Aladdin-esque story, a determined teen named Din attempts to reconnect with his childhood friend when he comes across a dragon with the ability to grant wishes and shows him a whole new world of adventure and magic. John Cho absolutely shines as Long the Dragon, and Jimmy Wong is a wonderful protagonist as Din. And for what it's worth, the Chinese wish dragon mythos predates The Arabian Nights so if anything, this lovable hot pink creature is merely taking his deserved place in the spotlight.
9. Talladega Nights: The Ballad of Ricky Bobby
It's time to hop in our time machines back to 2006 and relive one of the most endlessly quotable films of the new millennium. Will Ferrell plays the titular Ricky Bobby, a NASCAR mega star along with his best friend Cal Naughton Jr. (John C. Reilly) who loses it all when a French Formula One Champion (Sacha Baron Cohen) shows up on the scene and begins crushing the competition. Ricky now has to get his life together and figure out how to race on top once again, or risk falling into obscurity without his friends or family. Shake and bake, baby!
8. This Little Love of Mine
Brought to Netflix from Nicely Entertainment, This Little Love of Mine is a romantic comedy that might as well have rolled off a rom-com assembly line. Following the story of a big city lawyer named Laura, she finds herself traveling to her hometown in order to convince her childhood best friend to sell his grandfather's company in order for her to get a promotion. Chip initially refuses, but makes a deal that he will read a page of the contract for every "fun and relaxing" activity Laura does while back home. Nothing more needs to be said to predict what happens next.
7. Kung Fu Panda 2
Now a Dragon Warrior, Po the Panda (Jack Black) is enjoying his new role as a Kung Fu Master alongside the Furious Five. Despite his pride, Master Shifu (Dustin Hoffman) warns Po that he has not yet achieved inner peace. As he begins his journey trying to find it, they catch word that a vindictive peacock named Lord Shen (Gary Oldman) intends to take over China and destroy the art of kung fu. As far as animated kids' sequels go, this one is surprisingly solid. The heart is in the right place, the voice acting is stellar, and there's a lot of physical comedy gags that will keep your kids cracking up.
6. Kung Fu Panda
The kids were serious this week when they set their sights on Po the Panda. In the first adventure of the Kung Fu Panda franchise, we meet Po, the laziest and clumsiest panda in the Valley of Peace with big dreams of becoming a kung fu master. Training under Master Shifu, Po is chosen to fulfill an ancient prophecy and defend the Valley from an attack by the villainous snow leopard, Tai Lung (Ian McShane). It makes complete sense that this film spawned a franchise because Po is one of the most lovable and identifiable cartoon action heroes in recent memories, but it's also important to recognize that animated films are weirdly obsessed with Eastern cultures to the point of appropriation.
5. How I Became a Superhero
In our comic book obsessed world, it's weirdly comforting whenever a superhero movie comes out that isn't based on a familiar character we've seen hundreds of times before. In this Netflix original, superheroes are a completely normal part of society and those with powers have assimilated into Parisian society. However, all of this comes to a head when a nefarious villain has found a way to extract superpowers and convert them into powerful drugs. A loose cannon detective specializing in super crimes takes it upon himself to figure out just who is behind the crimes and put them to an end.
4. Mother's Day
The final film of both Penny and Garry Marshall, it's very...odd for 2016's Mother's Day to be the most watched film on Netflix right now. Despite a star-studded cast featuring Jennifer Aniston, Kate Hudson, Shay Mitchell, Julia Roberts, Jason Sudeikis, Timothy Olyphant, Britt Robertson, Jack Whitehall, Héctor Elizondo, and Margo Martindale, Mother's Day was critically panned upon release and earned two Golden Raspberry nominations for "Worst Acting." The story centers on a group of women in Atlanta coming to terms with their relationships with their mothers, in whatever way that may be. Perhaps this is a direct response to Fatherhood hitting #1 last week, or maybe people are just really looking for a feel-good film to kick off July.
3. Fear Street Part One: 1994
90s kids rejoice! The horror nostalgia needle has finally moved past 1986. Based on the popular R.L. Stine teen books of the same name, Fear Street Part One: 1994 is a trip down memory lane and a love letter to one of the most unappreciated time periods in slasher history. What to Watch's Amelia Emberwing describes it perfectly in her review, "Fear Street is young adult fare, but this ain't your momma's PG-13 slasher. You will see people shot, stabbed, mutilated and sliced from start to finish in this first entry. Because it's aimed at that younger audience, some viewers might expect the camera to pull away from the gore. Those viewers would be wrong. R.L. Stine's "Fear Street" novels aimed to reach — and terrify — the demographic that had grown out of "Goosebumps." Like his original saga, the first third of this new trilogy seeks to remind you that high school really can kill you."
2. Major Grom: Plague Doctor
The Russian made Netflix films have continued to soar in popularity, this week featuring the action-thriller from Oleg Trofim and based on the comic book series of the same name, Major Grom: Plague Doctor. The first feature-length film based on a Russian comic, the film tells the story of an honest yet unconventional police major named Igor Grom who is on hot-pursuit of a vigilante killer who dons the mask of a plague doctor. The film's morality is a little messy and borders on anti-Russian opposition "copaganda" at times, but where it failed at the Russian box office it has thrived in the states on Netflix. That seems concerning.
1. Fear Street Part Two: 1978
It's Leigh Janiak's world and we're just living in it apparently, because both of the currently available Fear Street films are absolutely crushing it on the top 10 this week. The continuation of 1994, Fear Street Part Two: 1978 tells the story of the Camp Nightwing killer, and the mysterious survival of C. Berman. An homage to the golden years of summer camp slasher films, this brutal as all hell horror flick has no problem hacking up campers and counselors, As Amelia Emberwing said in her review for What To Watch, "It may not be a better film than predecessors like Friday the 13th, but it most certainly makes you care about its protagonists in way the classic franchise often failed to."
Get the latest updates, reviews and unmissable series to watch and more!
Thank you for signing up to Whattowatch. You will receive a verification email shortly.
There was a problem. Please refresh the page and try again.