Top 10 movies on Netflix right now
By BJ Colangelo
This week everything is refreshed and new, we've got ten first timers over here!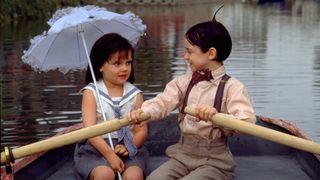 (Image credit: Amblin Entertainment)
Finding entertainment while being stuck at home has never been easier thanks to the Wild Wild West of streaming services, but nothing paints a more questionable picture of all of our streaming habits than the Netflix provided Top 10 most popular films list. Surprising absolutely no one, the current Top 10 leans heavily toward films for the whole family and new release Netflix exclusives. Nestled between them, however, are a few eyebrow raising choices that somehow managed to steal the hearts and time of streamers all over the world to wind up on the most-watched list.
Check back every other week with this constantly updating list of what we're all watching, for better or for worse.
10) Accepted
It's always seemed odd to place coming-of-age movies during high school when youth have to figure themselves out within the confines of their parents' supervision, but Accepted bucks the trend in this undergrad comedy. Justin Long plays Bartleby, a high school slacker who finds himself rejected by every school he applied to. Rather than fess up and accept the disappointment of his family, he instead purchases and flips an old mental institution and transforms it into a fictional college, the South Harmon Institute of Technology. Meant to serve as a scapegoat for him and his friends, he finds himself in over his head when the fake school website his buddy created for him turns out to be very much functional, and an entire class of freshman college students show up looking to learn.
09) New Gods: Nezha Reborn
Adapted from the 16th century novel "Investiture of the Gods," the latest animated original from Netflix spans 2,000 years. A delivery man named Li Yunxiang loves his life and enjoys motor racing in his spare time, but when the wealthy son of Boss De the Dragon King harms his sister and steals his bike, anger explodes from him in the form of Truth Fire, showcasing the truth of his identity--Nezha, the God of Rebellion. Now, Nezha has to learn how to navigate the reality of his lineage and reconcile with centuries old enemies. It's a beautiful CGI film that has shown itself to be so popular a sequel has already been greenlit.
08) Saving Private Ryan
Apparently there are a lot of people with three hours to spend feeling really depressed about war. Saving Private Ryan is Spielberg's beloved war epic about Captain John Miller (Tom Hanks) going behind enemy lines to find and recycle the titular Private James Ryan (Matt Damon) during the D-Day landing. Despite the inherent questions of mortality that surround any film about war, at the time of its release over 60 critics named it the best picture of the year.
07) Concrete Cowboy
Despite what so many people seem to believe, Lil Nas X is not the first Black cowboy. In the film adaption of the novel by Greg Neri, Concrete Cowboy is the story of a young man named Cole (Stranger Things' Caleb McLaughlin) from Detroit who is sent to live with his estranged father Harp (Idris Elba) in North Philadelphia. There, Cole is introduced to the world of Black cowboys through the Fletcher Street Stables, a safe place for urban cowboys under threat of gentrification and drug conflict. Calling it a Western seems dishonest, but it's a genuinely good film with a hell of a lot of heart.
06) Two Distant Strangers
In just thirty minutes, this Oscar nominated short film has already become one of the most polarizing films of the year. Two Distant Strangers is about a man named Carter James (Joey Bada$$) who must endure recurring dreams where he experiences different forms of police brutality. There are some who find the film to be an unflinching look at the horrific realities of Black Americans every day, but there are also those who justifiably feel this is another painful reminder of Hollywood exploiting Black trauma. Consider this a trigger warning for those wanting to check it out.
05) Legally Blonde
Reese Witherspoon's Elle Woods is a high-femme icon and is sincerely responsible for a generation of women getting involved with in the legal system. Written off as just another sorority girl, Elle Woods takes it upon herself to get into Harvard Law School not just to prove to her ex that she can thrive without him, but to prove to herself that she can accomplish anything she puts her mind to. Legally Blonde rules.
04) Sniper: Ghost Shooter
Would you believe that this is the SIXTH film in an action-thriller series? Chad Michael Collins and Billy Zane star as elite snipers ordered to protect a gas pipeline from terrorists. Things seem to be going according to plan until they realize they're being targeted by a ghost shooter who knows their location. It's a movie your aggressively American Uncle will love.
03) The Stand In
Directed by Jamie Babbit (But I'm a Cheerleader, The Quiet) and starring national treasure Drew Barrymore in a dual role, The Stand In is a satirical dark comedy about Hollywood and the acting hustle. With a star-studded supporting cast featuring the likes of Holland Taylor and Ellie Kemper, The Stand In seems like it has everything going for it...but the results are a partially funny but mostly mean disaster. Admittedly, this film is such a hot mess it almost has to be seen to be believed.
02) The Little Rascals
90s kids rejoice! One of the most beloved children's comedies is readily available and people are running full force to pull on those nostalgic heart strings. Inspired by the popular Our Gang series of yesteryear, critics mostly hated this tongue-in-cheek retelling, but kids loved it. An introduction to gender politics through the guise of cartoon-esque hijinks with lovable latchkey kids, The Little Rascals surprisingly holds up as a children's camp classic, no matter what pesky adults have to say.
01) Thunder Force
Octavia Spencer and Melissa McCarthy are two childhood best friends who reunite as an unlikely crime-fighting superhero duo when one invents a formula that gives ordinary people superpowers. Our own Amelia Emberwing said it best regarding the current most popular film on Netflix. "Ben Falcone and Melissa McCarthy films will continue till morale improves, it seems. The husband and wife team clearly enjoy working together, so it's hard to begrudge them that. There's nothing ostensibly offensive about Thunder Force, there's just not anything that makes it worth a watch, either"
Get the latest updates, reviews and unmissable series to watch and more!
Thank you for signing up to Whattowatch. You will receive a verification email shortly.
There was a problem. Please refresh the page and try again.