Top 10 movies on Netflix right now: October 2020
By BJ Colangelo
October is starting out with some odd choices for movie watching. Comedy continues to reign supreme and animated films cannot be stopped.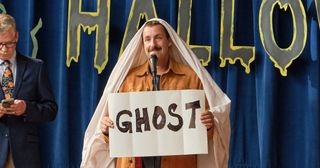 (Image credit: Netflix)
Finding entertainment while being stuck at home has never been easier thanks to the Wild Wild West of streaming services, but nothing paints a more questionable picture of all of our streaming habits than the Netflix provided Top 10 most popular films list. Surprising absolutely no one, the current Top 10 leans heavily toward films for the whole family and new release Netflix exclusives. Nestled between them, however, are a few eyebrow raising choices that somehow managed to steal the hearts and time of streamers all over the world to wind up on the most-watched list.
Check back every other week with this constantly updating list of what we're all watching, for better or for worse.
10) The Secret Life of Pets 2
An adorable and funny insight into the emotional lives of our favorite furry friends, The Secret Life of Pets 2 hopes to answer the age old question: What are our pets doing when we're not around? The sequel to the original smash-hit, we revisit Max the Terrier (Patton Oswalt) who has now developed a nervous tic out of worry to protect his owner (Ellie Kemper)'s new toddler, Pomeranian Gidget (Jenny Slate) has to rescue Max's favorite toy from an apartment overrun with cats, and Snowball the bunny (Kevin Hart) joins forces with a Shih Tzu named Daisy (Tiffany Haddish) to complete a dangerous mission and prove he's more than just cuddly and cute. Kids love the silliness and animation, and adults can love all of the jokes that fly over their kids' heads. 
9) The Grinch
Christmas' continued war on Halloween is now coming in the form of this rather adorable computer-animated version of the classic story from Dr. Seuss. Benedict Cumberbatch takes voice-over duty for the titular green grump, alongside a stellar voice cast featuring Rashida Jones, Kenan Thompson, Angela Lansbury, Pharrell Williams, and the acapella darlings, Pentatonix, as the Whoville carolers. It's the same story as it always is, punched up for today's kids and a killer title track revamp of the theme song from Tyler the Creator. It's cute. Your kids will love it.
8) Enola Holmes
Millie. Bobby. Brown. Enola Holmes has been one of the most anticipated Netflix releases of the year, and with good reason. Focusing on the precocious younger sister of the infamous Sherlock and Mycroft, Enola Holmes awakens on her 16th birthday to find that her mother has gone missing, and it's up to her to figure out where she's gone. Enola Holmes regularly breaks the fourth wall to have conversations with the audience, adding an additional layer of charm to an already inspiring performance. Considering the story is based on a series of books from Nancy Springer, we can only hope that Netflix continues the many cases of Enola Holmes and brings Millie Bobby Brown back for more.
7) The Croods
Family friendly movies always perform really well on Netflix, but The Croods skyrocketed to the top 10 seemingly out of nowhere. The Academy Award nominated animated film tells the story of a group of cave people who survive a natural disaster, only to come in contact with a "modern" human who warns them of an impending apocalypse. It's a pretty average kid's movie from the perspective of an adult, but the silly characters, lush scenery, and goofy looking wild animals are a big favorite with younger audiences.
6) Colombiana
Action movies are always the wildcard with Netflix's popular titles, and the newest evidence of such is the Luc Besson written and produced film, Colombiana, from 2011. Zoe Saldana stars as Cataleya, a woman who watched a crime lord kill her parents as a child who now works as a skillful and trademarked contract killer who dreams of avenging her parents. The film isn't much to write home about, with the exception of Saldana's action sequences who showed audiences exactly why she was sought after by Marvel for Guardians of the Galaxy. 
5) Big Daddy
Adam Sandler is kind of crushing it right now, and the success of his newest release clearly has audiences hoping to relive some of his earlier hits. Sandler's highest-grossing domestic release until 2015, Big Daddy shows him in one of his strongest performances. He plays Sonny Koufax, a do-nothing toll booth attendant who learns to grow up after incidentally raising Julian "Frankenstein" McGrath (the introduction of Cole and Dylan Sprouse), the son his roommate never knew he had. There's a lot of heart in this one, and plenty of juvenile jokes to keep the giggles flowing. 
4) Employee of the Month
After the success of Waiting… a few weeks back, it seems audiences are continuing to ride on the Dane Cook train. Upon release in 2006, the film became the most requested film on AOL, so it makes sense that people are reliving what seems to be an all-time favorite. The premise is simple, Dane Cook plays a box-boy slacker at a Costco-esque store and must battle for the title of "Employee of the Month" with his overachieving coworker played by Dax Shepard in order win the affections of the store's newest employee played by Jessica Simpson.
3) American Murder: The Family Next Door
True crime aficionados are already aware of the horrific Watts family murders in 2018 but for those unaware, proceed with caution. What makes the murder of the pregnant Shanann Watts and her daughters Bella and Celeste so awful is not just that their beautiful lives were taken far too soon, but because it happened just a few years ago, meaning their lives and social media posts are still publicly available for consumption. The story of what happened to the Watts family is told not just through interviews and police footage like your typical true crime documentary, but also through Shanann's YouTube video blogs, Facebook status updates, and text conversations.
2) American Pie: Girls Rules
It's American Pie BUT FOR GIRLS. No, that's really it. I wish that there was some empowering message or brilliant retelling of an iconic sex comedy, but there isn't. It's faux-feminist/faux-sex positive filmmaking that feels like a cash grab and "cool girl" storytelling that would have been better served in 2002. It's unfunny borderline exploitation masked as progressive filmmaking and falls under the banner of what filmmaker Bruce LaBruce calls "bad straight camp." But hey, I guess the title alone is winning over audiences, because it's super popular. 
1) Hubie Halloween
How dare Adam Sandler make such an endearing Halloween comedy? The results of Hubie Halloween have been mixed, to say the least, but as a staunch defender of films like Ernest Scared Stupid, this hits right in the feel good giblets. Sandler brings out his typical rogue's gallery and yet another goofy voice, but the positive feedback surrounding the story of Salem's least popular defender of Halloween has been the talk of movie circles since its release. It's safe for the whole family to enjoy, and any movie that gives June Squibb the chance to wear novelty t-shirts is worth watching.
Get the latest updates, reviews and unmissable series to watch and more!
Thank you for signing up to WhatToWatch. You will receive a verification email shortly.
There was a problem. Please refresh the page and try again.