Tales from the Crypt and Vault of Horror | Two British horror anthology classics on Blu-ray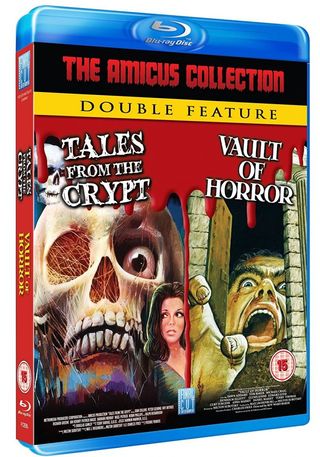 From Final Cut Entertainment comes a double-bill of classic Amicus horror anthologies from the 1970s to make you shiver!
First up is the horror anthology Tales From the Crypt. Directed with finesse by Freddie Francis, this 1972 British creeper was the fourth in a series chillers from Milton Subotsky and Max Rosenburg's Amicus outfit, and it remains a classic of its kind thanks to the sterling performances of an all-star cast and the five genuinely macabre stories, inspired by the original EC Comics, which still have the power to chill.
Subotsky drew on five more tales for the following year's Vault of Horror, Amicus' penultimate entry in their horror anthology cycle. Asylum director Roy Ward Baker was called in after original choice Freddie Francis (who helmed the first four entries) declined to oversee a mixed bag of horror and humour, which upped the horror quota, and boasted another starry line-up. You can read more HERE.
The extras on this new Blu-ray, which uses the same uncut transfer that Shout!/Scream Factory put out as part of their 2014 double bill, includes a 36-minute featurette featuring interviews with the likes of Jonathan Rigby, Reece Shearsmith and Steve Chibnall.
Available from Amazon from Monday 5 December 2016
Get the latest updates, reviews and unmissable series to watch and more!
Thank you for signing up to Whattowatch. You will receive a verification email shortly.
There was a problem. Please refresh the page and try again.