Alesha hits the Golden Buzzer for her 'Sister Act' choir in Britain's Got Talent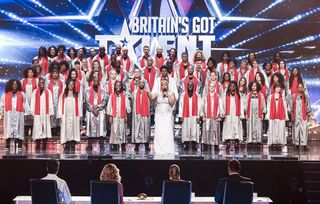 Britain's Got Talent's second show of auditions saw judge Alesha Dixon find her dream act in a choir called The 100 Voices of Gospel.
"I'm still dying for a choir to come and do what they do in Sister Act," Alesha said to fellow judge Amanda Holden. "You know, really go for it."
And then she got one.
The 100 Voices of Gospel is made up of singers from all over the world, including the UK, USA, France and Africa.
The 100 Voices of Gospel choir were pure gold for Alesha
"We're a family affair," said the choir. "The judges can expect a lot of energy, a lot of power and a lot of love."
They sang This Little Light of Mine and Alesha's eyes lit up. So did Simon Cowell's.
At the end of the choir's performance, all the judges were on their feet when Alesha hit the Golden Buzzer, which sent the choir straight through to the semi-finals.
The 100 Voices of Gospel celebrate their Golden Buzzer
"Nooooooooo!" Simon moaned. "I wanted to do that!"
"I knew you were going for it and I like winning just as much as you," Alesha told him. Then she turned to the choir…
"I have no words to describe the feeling you've given everyone here. It is so powerful. I am so proud to press the Golden Buzzer for an act I believe Britain's Got Talent needs.
Simon is gutted when Alesha beats him to the Golden Buzzer for The 100 Voices of Gospel
"You have just blown the roof off."
Apart from the choir, though, it was a night for dance acts, especially Another Kind of Blue, whose act features a unique mix of dance and visual projections which, at times, made it look as if the dancers were flying. They got four yeses.
Another Kind of Blue blew the judges away with their "stunning" dance act
"Absolutely stunning," Simon told them. "There were moments where you actually believed you were in the air with them. Never seen anything like it in my life. Very special."
"So touch and so clever," Amanda agreed.
Fourteen-year-old dancer Jack Higgins also got four yeses.
"I want to dance for the rest of my life," Jack told the judges. "I don't have any other hobbies. People called me names when I started ballet and bullies picked on me. But dancing makes me happy."
Jack Higgins, 14, is a "born dancer", says Amanda
His dancing made the judges happy, too.
"You are a born dancer," Amanda told Jack.
"That was a real 'Billy Elliot' moment for me," added David Walliams. "You dance with such passion!"
Best friends Katy and Paul had the audience on their feet
Best friends Katy, 28, and Paul, 33, have been performing together for several years and had the audience on their feet with their aerial dance act.
"It was so dramatic," said David.
There was a little bit of drama, too, when 60-year-old Bill Brookman, a one-man band on stilts, took to the stage.
Bill Brookman needed Ant and Dec to stay standing for the judges' decision
He was okay while he performed but having to stand and listen to the judges was a bit of a problem…
It fell to presenters Ant and Dec to come on stage and keep Bill upright while the judges made their decision…and it was three yeses, with a "no" from Simon.
"You're exactly the kind of British eccentric we love on Britain's Got Talent," said David.
Cockney-sounding Wayne Woodward, 20, from Sutton, wasn't eccentric but he did surprise the judges when he sang The Way You Look Tonight.
Cockney-sounding Wayne Woodward sounded very different when he sang
"I was not expecting this singing voice," said David. "We went from Sutton to Las Vegas."
"I think there were points in the song where you lost your way," said Simon.
But Wayne still got four yeses… And his dad, who was in the audience, got so excited he broke his seat.
The real magic came from soldier Richard Jones, who stunned the judges by appearing to read Amanda and David's minds — and then turning a cold can of fizzy drink into hot tea.
"It's a proper cup of tea!" said Alesha. "Incredible!"
Magician Richard Jones turned a can of fizzy drink into a cup of tea
"You can do things that make you special," Simon told him.
"You have every chance in the world of winning," added Amanda.
"I have no idea how you did that," David told him. "And you're a soldier. Could it get any better?"
We'll find out in the next round.
Our picture special has the verdict on all 15 acts from this show.
Britain's Got Talent continues on ITV, Saturday, April 23, 8.00pm.
Get the What to Watch Newsletter
The latest updates, reviews and unmissable series to watch and more!