Call the Midwife's Stephen McGann: Secrets come between Patrick and Shelagh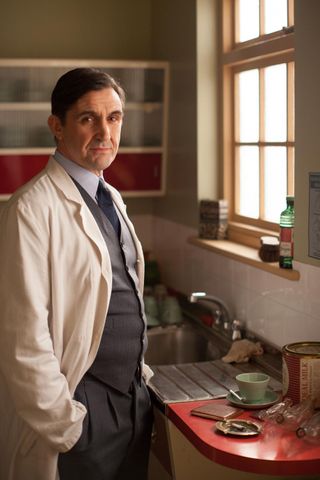 Call the Midwife star Stephen McGann reveals Dr Patrick Turner and his new wife Shelagh are in for a rough ride.
Eagled-eyed viewers will have noticed Patrick looking shifty after he leafed through the adoption papers brought home by his excited wife Shelagh in last week's Call the Midwife.
This week, the reason behind his sudden change in mood is revealed.
"Patrick's perfectly capable of loving a child that isn't his biologically. The problem comes when they start to go through the adoption process and a part of Dr Turner's life that's not been seen before raises its head," reveals Stephen.
"There are things about him Shelagh doesn't know, that start to reveal themselves. He's not been intentionally deceitful or harmful, but it comes between them."
Shelagh, a former nun, left the religious life when she and widower Patrick fell in love. Marriage held disappointments, however, when Shelagh realised she couldn't have children to add to her ready-made family with Patrick and his son Timothy.
Stephen, one of four acting siblings including Joe, Paul and Mark, adds: "This being Call the Midwife, we don't do 'happy ever after'. We turn the screw!
"It was an awful moment when they discovered they couldn't have a child of their own. They've to navigate their way through the idea things won't be as they imagined."
Call the Midwife screens next on BBC1 on Sunday at 8pm.
Get the latest updates, reviews and unmissable series to watch and more!
Thank you for signing up to Whattowatch. You will receive a verification email shortly.
There was a problem. Please refresh the page and try again.