Casualty's Sunetra Sarker: 'Zoe and Max will be happy – for a while!'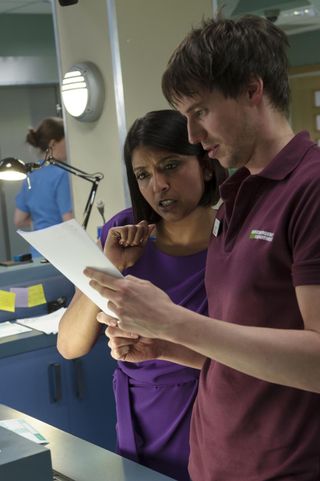 It's the moment fans of Zoe and Max (nicknamed 'Zax' on Twitter!) have been waiting for...
In a chat with What's on TV Sunetra Sarker explains her high hopes for the mismatched couple, talks about her whirlwind appearance on Strictly Come Dancing, and reveals why working with co-star Jamie Davis is a pleasure (it's not why you think!)
This Saturday Zoe gives in to Max's charms and they rekindle their romance! What has been holding Zoe back from a proper relationship with him?
"It's a really tough one for Zoe. She's been so determined to be grown-up and professional, she's not allowed herself to get emotionally attached to Max. She finally thought 'what the hell' a few episodes back, and went to talk to Max… only to find him kissing a nurse because he'd given up any hope of a chance with Zoe!"
So what finally brings them together this week?
"After she saw Max with someone else, Zoe went into self-destructive shutdown and didn't want to talk about it. But because Zoe went to find him, Max now realises she really does have feelings for him, and decides he needs to win her over. And he does! Max's lack of embarrassment at saying he wants to be with her is very different to Zoe's past lovers, who've been very private and serious doctors. Max wins her over with his obvious feelings, persistence and his humour."
Will the age gap turn out to be a problem?
"Interestingly no. There are only 10 years between him – he's 29, she's 40 - and there's a real meeting of minds. It's more of a status gap than an age gap. Their next obstacle is, do they tell everyone that hospital consultant Zoe is going out with porter Max? In terms of hospital hierarchy that's a big deal. There are fun times ahead!"
This is Casualty - is there any possibility of a happily-ever-after for them?
"I don't think we've anything to worry about just right now. It's not all doom and gloom. I'm hopeful Max and Zoe can climb over their obstacles together. I think they're embarking on one of Casualty's more normal relationships - for a while!"
On behalf of fans of Max, we have to ask – what's it like doing romantic scenes with Jamie Davis?
"It's really easy because we're such good friends. We end up chatting a lot about our kids, and are really comfortable with each other. We're also always joking and being sarcastic, so there's never a dull moment. Jamie's a perfect gentleman. I have absolutely no worries about kissing scenes, as they're usually fun, frivolous and have a funny line on either side of them. It's very rare we have deep, dark or emotional moments in those scenes."
What's it like to play the comedy-element of their relationship?
"It's great fun! Jamie gets great lines – but I always joke that I let him have the funny lines in the scenes. Jamie and I get on really well. He's a really thorough actor when it comes to playing a scene. We call it 'off-stepping' when he and I have a little chat about an upcoming scene and how to play it."
Why is that?
"We're aware that Zoe and Max are two characters who wouldn't usually be in scenes together. That's the reason a consultant never goes out with a porter – how do they ever end up in the same room together? We know we've a lot to get across in those scenes when we're outside having a cigarette or walking towards a lift. So we work really had on getting those moments right.
Speaking of hard work, congratulations on juggling both Strictly Come Dancing and Casualty last year. Did you enjoy it?
"The truth is you don't have time to enjoy it while you're doing it. It's a busy time, focusing on learning a new skill, facing the live Saturday dance, followed by Sunday eliminations and possibly saying goodbye to someone you really like – then learning lines for Casualty on Monday! But now, looking back on it, I really enjoyed it! The high of doing a foxtrot with so little training, the beautiful dresses and make-up, and making new friends… they were the best bits for me. I was so lucky!"
Was it easy to say yes to Strictly?
"Until now I'd said no a few times! Mainly because my son was young and the commute from London to Bristol (Casualty used to be filmed in Bristol but moved to Cardiff in 2011), as a young mum, would have been too hard. But now, at nine years old, my son is a bit older, and even he thought I should do it! In fact everyone I spoke to – my mum, friends and family – all thought I should do it in a heartbeat!
"The best time is when you finish a dance and Brendan Cole would say 'good job'. That, and the audience appreciation after thinking the day before I couldn't do it, gave me a lot of personal enjoyment. The whole time I couldn't believe I was doing it!"
Get the What to Watch Newsletter
The latest updates, reviews and unmissable series to watch and more!
Writer for TV Times, What's On TV, TV & Satellite Week and What To Watch
With twenty years of experience as an entertainment journalist, Elaine writes for What's on TV, TV Times, TV & Satellite Week and www.whattowatch.com covering a variety of programs from gardening and wildlife to documentaries and drama.
As well as active involvement in the WTW family's social media accounts, she has been known to get chatty on the red carpet and wander into the odd podcast.
After a day of previewing TV, writing about TV and interviewing TV stars, Elaine likes nothing than to relax… by watching TV.