Casualty star Amanda Mealing: 'We have never seen Connie like this'
Casualty star Amanda Mealing reveals Connie Beauchamp struggles under Ciaran's watchful eye…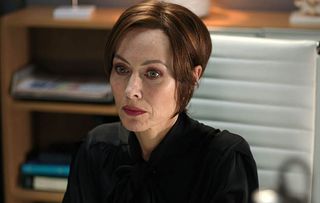 (Image credit: BBC)
If you've watched the new Casualty trailer, you'll know clinical lead Connie Beauchamp is in for a tough Summer.
We talked to Casualty star Amanda Mealing about Connie's increasing desperation as Ciaran Coulson applies more pressure tactics to the Holby ED clinical lead. This week in Casualty the vulnerable medic engages in risky behaviour in order to cope with the stresses of work and her undiagnosed anxiety disorder.
Read more episode reveals here 
Here Amanda reveals more about Connie's struggle for survival in an increasingly hostile working environment...
How does Connie react when she returns from a conference and finds Ciaran Coulson (Rick Warden) has taken over her office?
Amanda Mealing: [Laughter] "It doesn't go down well. [Its one thing] to have someone come in and usurp her power but then to also take her chair?"
Connie's chair and office have a mythical status in a way, don't they?
AM: "Sometimes when we're filming the crew will sit in there. If I walk past, going onto another set, they kind of freeze, stand up very quickly and leave the office. So even with the cast and crew Connie's office and chair retains authority. It's quite funny!"
There's another aspect to Connie's office at the moment too. It's become her safe space…
AM: "Yes, and to return and find Ciaran in her chair, literally… all Connie's hackles go up! She knows she's in for a fight. But she's at a really weak point at the moment because she's suffering from post-traumatic stress disorder (PTSD) since being attacked. So this is the worst possible scenario for her. Her safe space has been invaded; she has nowhere to hide and is absolutely terrified."
Can we talk about Connie beginning to secretly self-medicate this week?
AM: "Connie hasn't dealt with the attack and its on-going issues. Before Elle left she vocalised that Connie hadn't treated anyone since the attack and has been hiding in her office. This week Connie begins self-medicating with diazepam tablets to numb herself, but they exacerbate the situation."
How does the medication affect her?
AM: "Connie takes the pills and feels artificially okay for a little while. Then the tablets wear off and her vulnerability is doubled, not only from the PTSD but also the come down from the medication. It's a vicious circle. Adding to that she's feeling less and less capable every hour, not every day, now. It's the worst possible scenario for her. We're seeing Connie at her most vulnerable."
Series producer Lucy Raffety said we will see Connie struggling to do her job for the first time in her career. Can you reveal more?
AM: "I've been playing Connie on and off for 15 years and the one thing we've always said is that you can do anything to Connie - the world can fall apart - but she will always be brilliant at her job. But not now. Connie has always been confident in her work, yet now she doubts herself. That's why she's been avoiding medical cases since the attack. This week she's forced to get back out there and prove herself because Ciaran's eyes are beaming on her. I can't reveal too much, but she deals with a patient and its questionable whether she gets it right or not. We have never seen Connie like this…"
Will Connie rise to the occasion as she has so many times before? Find out in Casualty tomorrow on BBC1 at 8.25pm
Get the latest updates, reviews and unmissable series to watch and more!
Thank you for signing up to Whattowatch. You will receive a verification email shortly.
There was a problem. Please refresh the page and try again.