Casualty's Richard Winsor: 'The revelation he's adopted completely and utterly rips Cal open!'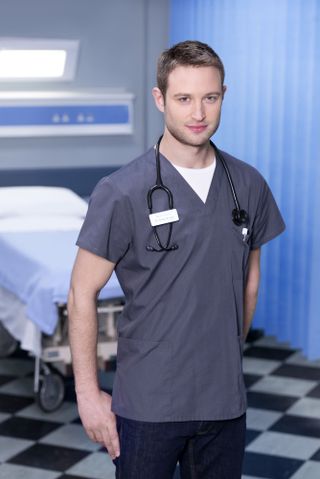 (Image credit: BBC/Warren Orchard)
Richard Winsor (opens in new tab) reveals there's more shocks in store for Cal as he discovers he's adopted and Ethan's probably not his real brother!
In an interview with What's on TV (opens in new tab) the Casualty star revealed how Cal copes with the double whammy of devastating news – that Matilda isn't his daughter, and Ethan may not be his brother…
How is Cal dealing with last week's paternity results bombshell, which revealed that Matilda isn't his daughter?
"He's absolutely heartbroken and doesn't want to believe it. He loves Matilda. Having her in his life has made him stable and responsible for once. So his first reaction is to deny the paternity results, find faults in the tests and get them redone. But this leads to more revelations!"
What does he discover?
"Cal discovers his now-deceased mother can't possibly be his birth mother as their bloods don't match on the blood chart. The revelation he's adopted completely and utterly rips Cal open. The most devastating aspect is he doesn't know if Ethan is in fact his brother!"
Does he confide in fellow ED doctor Ethan?
"Unfortunately Ethan's going to be left in the dark for a while. Cal doesn't know how to confront Ethan with this. And the longer he leaves it the worse it gets!"
Why do you think he can't talk to Ethan?
"Cal doesn't know how to talk to Ethan about this. Through Matilda the brothers have bonded. Ethan's been very much on Cal's side and has seen a real improvement in Cal's sense of responsibility to life. It's changed Cal and Ethan really respects and likes that, because in the past Cal's put Ethan through so much!"
Is Cal's work in the ED affected?
"Yes it is! Clinical lead Connie Beauchamp (Amanda Mealing (opens in new tab)) isn't in the loop about the adoption, but she does know about Matilda. It's clear to her it's affecting Cal so she's keeping a close eye on him. They have quite a spat this week when Cal brings up her past, which is emotional for both of them…"
Cal decides to give Matilda up to social services this week. How does he deal with the strain of that decision, coupled with his adoption secret?
"First and foremost Cal does what he always does – self-loathes and turns his back on everything. He gets drunk and goes back to his womaniser ways after the loss of Matilda and the adoption news."
Which side of Cal do you enjoy playing more – Cal the womaniser, or vulnerable Cal?
"Well, one comes from the other; Cal's a deeply insecure person. The womanising and bravado comes from his insecurity. I love playing both sides to him. He can just flip and become very emotional at his lowest points. And when something hits him he doesn't have the resources to deal with it. So, because he's a hedonist, he goes out and gets drunk and hits on the ladies!"
Does he have anyone to support him?
"Ethan (George Rainsford (opens in new tab)) thinks Cal's hugely affected by the loss of Matilda, which he is. But only Charlie Fairhead, played by Derek Thompson, knows everything. As this story twists and turns Charlie is more than a shoulder to cry on, he's Cal's guardian angel! A really lovely relationship starts to form between Cal and Charlie. It's been wonderful to work with Derek. He's so knowledgeable about the programme and the audience. He really cares."
Will this storyline run and run?
"This story has a real domino affect, from Taylor, the baby, and now to this revelation about the adoption, and the question 'are Ethan and Cal brothers?' It's beautifully constructed and there's a lot more to come!"
Watch the drama on Casualty this Saturday (opens in new tab), BBC1, at 9pm.
With twenty years of experience as an entertainment journalist, Elaine writes for What's on TV, TV Times, TV & Satellite Week and (opens in new tab)www.whattowatch.com (opens in new tab) covering a variety of programs from gardening and wildlife to documentaries and drama.
As well as active involvement in the WTW family's social media accounts, she has been known to get chatty on the red carpet and wander into the odd podcast.
After a day of previewing TV, writing about TV and interviewing TV stars, Elaine likes nothing than to relax… by watching TV.
Get the latest updates, reviews and unmissable series to watch and more!
Thank you for signing up to Whattowatch. You will receive a verification email shortly.
There was a problem. Please refresh the page and try again.