Casualty newbie Rik Makarem explains why he likes to 'follow where the butterfly goes'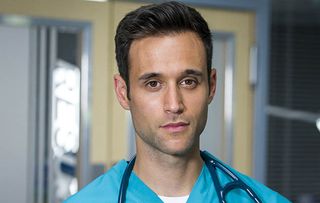 (Image credit: BBC/Alistair Heap)
Former Emmerdale star Rik Makarem talks about his new role in Casualty and about his other life as a songwriter!
Soaplife caught up with former Emmerdale star Rik Makarem to talk about his new role in Casualty... and his songwriting.
How are you enjoying being a semi-regular character in Casualty? "Playing Dr Sebastian Grey is great. He's very different to Nikhil Sharma in Emmerdale. It feels like the next adventure for me. The creative team in Cardiff where Casualty is filmed are ace and it's an honour to be part of such an iconic show."
Will we ever see Nikhil back in Emmerdale? "I thoroughly enjoyed being back in Emmerdale, when Nikhil returned to tie up some loose ends. But I was happy to leave it where it was… for the time being, at least. If there is an opportunity to revisit and it's the right circumstance, who knows? I've always seen my life as an adventure, so I never like to say exactly what I'm going to do. I like to follow where the butterfly goes!"
We hear you're a songwriter, too… "At the beginning of the year, I said I wanted to make a stronger commitment to my songwriting in 2016. To land a publishing deal and to get my material in line with the right artist would be the dream for me. I have a catalogue of varying material and the different genres of music would complement a lot of leading artists we hear on the radio today. We basically we just need to get it out there.
"I'd love to write for Adele, Olly Murs, Sam Smith… those kind of artists. I have no intention to be an artist myself, just to create new material for others."
So which do you prefer – acting or songwriting? "I love both. The two complement each other so well. When you're creative, you just become a vessel for your art. Whichever way you do it, if someone enjoys your acting or your musical piece, it involves the same kind of process."
Are there any actors you'd really like to work with? "There are many! I'd love to do something with James McAvoy, Leo Di Caprio or Dominic West. I'd love to play the kind of part Dominic had in The Wire. He nailed that! Mind you, I've got quite a wacky side, too, so I think something with Jim Carrey would also be very cool."
Casualty, BBC1
Get the latest updates, reviews and unmissable series to watch and more!
Thank you for signing up to Whattowatch. You will receive a verification email shortly.
There was a problem. Please refresh the page and try again.