Charlotte Salt: 'Coming back to Casualty is like coming home'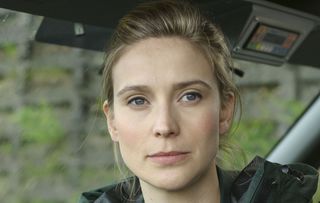 (Image credit: BBC/Alistair Heap)
After four years away actress Charlotte Salt reveals why she's delighted to be back on Casualty, what juicy secrets have brought Sam back and how she's finding life as a new mum
The last time we saw doctor Sam Nicholls, she was disappearing off into the sunset after tying the knot with fellow doc, Tom Kent, but this week she's back and as actress Charlotte Salt explains, there have been a few major changes during her four years away.
Not only has Sam split up with Tom, who was played by Charlotte's real-life husband, Oliver Coleman, but she is no longer a doctor. What!! How! When!? We need answers! We caught up with Charlotte to give us the lowdown on Sam's sudden return and the secrets she's been keeping.
Plus Charlotte Salt reveals why she's delighted to be back and how she and Oliver are coping with being proud new parents....
What brings Sam back to Holby?
"She doesn't know that she's actually coming back! It's the last place she wants to be because there are so many memories of her and Tom and we discover the two of them have been through a painful split. Let's just say she's not exactly there by choice!"
The last time we saw her she was a doctor and now she's a paramedic. What's happened?
"She's lost her doctor's licence. Sam's headstrong personality has got her in hot water again and things haven't gone her way. She's always going to stand up for what she believes is right but it hasn't ended well and she's had a tough time."
So how does she feel when she comes face to face with her former colleagues, not to mention her exes, Dylan and Iain?
"She feels a slight relish in seeing people's reactions. When she sees Dylan she tries not to make a big deal of it and just brushes it off. Dylan is pretty flummoxed to see her. When we were filming I kept laughing because Will (Beck) who plays him does flummoxed very well!"
And what about Iain?
"Sam has always been quite cocky and headstrong and in a way she's been demoted so Iain is quite amused and a little bit sarcastic. He relishes the fact she's now a paramedic like him. When they were together before, I think he felt he was punching above his weight so now they're on a level he 's like, "Ok, not so cocky now are you?" It kickstarts a whole new relationship between them that's full of banter like the one they had when they were working back in the army."
They're quite flirty together aren't they?
"Yes, I think they're always going to have a flirty spark between them, mainly because Michael Stevenson who plays Iain is so charming it's hard not to! They just have this chemistry and it's a very natural pairing. I think that's one of the reasons the producers wanted Sam back. They've got such a good connection, it's a platform that could lead anywhere.'
So how does Dr Lily, Iain's girlfriend feel about that?
"Lily can't quite comprehend the ease they have with eachother. She feels incredibly jealous and struggles with Sam's confidence. To be fair Sam doesn't make it particularly easy for Lily, she's not going to change who she is and is probably a bit insensitive. Later on we see Sam take a step back and allow Iain and Lily to get on with it but that chemistry is just there and really does push Lily out."
How has Sam changed since she's been away?
"She's had two divorces, she's a bit older and wiser. The last few years have been tough and right now she's trying to find a place where she can just be content and throw herself into the work. She's keeping her head down and trying to be well behaved. We see situations where the old Sam would have really blown up, whereas the new Sam tries to learn from her previous mistakes and keep herself in check. We'll see how that goes!"
And she's now divorced from Tom. What exactly has happened, how's it gone so wrong?
"The producers are leaving that to slowly unravel. There's plenty of juicy gossip to come out but they don't want to burn those bridges straight away so for now Sam is definitely keeping her cards close to her chest."
What does your husband Oliver (Coleman) who played Tom think about you being back on Casualty?
"Olly thinks it's great. We've both got so many fond memories of the show and the crew, it's a bit like going home, it feels familiar and nice which is very much what we need right now. I've been filling him in with all the goss from the set!"
How have things at work changed in the four years you've been away?
"A lot of the cast have gone, it's very much new people, new faces which is exciting although a lot of the crew and production team are the same. Michael Stevenson (Iain) and I have always had a great relationship so it's really lovely to be working very much side by side."
Will we ever see Tom come back?
"I think it would be brilliant because the relationship between Iain, Tom and Dylan, and all the history they share together, has always been fiery.'
And we hear you and Olly have become parents in real life!
"Yes! We had a little boy six months ago so work-wise it's been nice coming back to Casualty because it's familiar and not too daunting. I think as an actress, or any working mum, that first job back after having a baby is always terrifying because you feel like you've gone and lived on another planet for nine months."
So how have you found combining work with the demands of a newborn?
"Well, he was three months old when I shot my first scenes back so it was pretty hectic. I had my mum with me on set and I'd be going off to feed him. It's been intense and slightly crazy filming after sleepless nights and travelling between home and the set in Cardiff. The good thing is at that age they're very portable and yet they have more stuff than anyone. I've been up and down motorways with a boot full of travel cots, toys…just stuff! But it's been great to be back. Coming back to Casualty is a bit like coming home."
Was it an easy decision to return?
"The offer came totally out of the blue and I was a tiny bit apprehensive at first only because I didn't want to feel that I was repeating a performance or repeating the same story, but with Sam there's a huge wealth of untold stories and when they said they wanted her to come back as a paramedic that got me really excited and interested."
What do you like about Sam's career change?
"Playing a doctor, my favourite bits were always when Sam was on call and we'd get to film on various locations away from the hospital set. As a paramedic that's what you do every week which is great fun and it feels like a whole new challenge."
How long is Sam going to be back for?
"Well I'm definitely back for 15 months and after that we'll see where it goes."
Away from work how do you and Olly like spending your time?
"Everything changes when you have a baby. Going to the swings becomes the best thing ever! He's at that fun age where he's laughing and interacting so it's lovely to see how he reacts to trying new things for the first time. We've been hanging out with friends a bit more because a lot of them have got babies, so we'll be round at people's houses. Everyone lives such busy lives during the week that it's nice to catch up with friends and family at the weekend."
Charlotte returns to Casualty on Saturday, Sept 23, BBC1
Tess is a senior writer for What's On TV, TV Times, TV & Satellite and WhattoWatch.com She's been writing about TV for over 25 years and worked on some of the UK's biggest and best-selling publications including the Daily Mirror where she was assistant editor on the weekend TV magazine, The Look, and Closer magazine where she was TV editor. She has freelanced for a whole range of websites and publications including We Love TV, The Sun's TV Mag, Woman, Woman's Own, Fabulous, Good Living, Prima and Woman and Home.

Get the latest updates, reviews and unmissable series to watch and more!
Thank you for signing up to Whattowatch. You will receive a verification email shortly.
There was a problem. Please refresh the page and try again.