Charlie and Duffy's honeymoon is OVER in Casualty!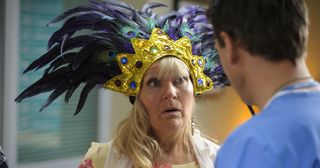 (Image credit: BBC)
A delayed flight means Casualty favourites Charlie and Duffy end up going straight to the ED after their honeymoon, where they're greeted by CHAOS. Will they survive the shift?
It's natural to get the post-holiday blues when you've been away. But imagine coming straight into work after your honeymoon?
This Saturday, Casualty newlyweds Charlie and Duffy are left fighting to keep their honeymoon glows when they get a cold reception from their ED colleagues…
Duffy and Charlie (Cathy Shipton and Derek Thompson) find a warm welcome in short supply when they come straight from the airport after their flight was delayed, to start their Saturday night shift.
David, at least is happy to see them, and rushes to share the news of #Chuffy's return with Robyn. But why is he so desperate for Robyn to talk to Charlie and Duffy?
Charlie finds it hard to stay in the holiday mood, as the ED fills with drunks and party animals...
A quick boogie with Mrs Charlie Fairhead soon cheers him up. But, seriously, why is David so keen to catch up with Charlie and Duffy?
Duffy looks a bit dazed and confused when David asks her for a favour...
There's barely time to get changed as the ED fills up with a drunken stag and hen party. Yes, that's Robin Hood and a man in a mankini!
There's more surprises in store, as Duffy tries to help heal a rift between a bride-to-be Daisy and bridesmaid Karla (EastEnders' stars Lauren Crace and Noeleen Comiskey). Casualty fact: Lauren is married to Michael Stevenson, AKA paramedic Iain Dean, in real life
Thankfully it looks like Chuffy survive their first night back in Holby. And pregnant Robyn is delighted to have their support.
For more insider info on this Saturday's Casualty read our reveal. Paramedic Iain is in for quite a shock!
Get the latest updates, reviews and unmissable series to watch and more!
Thank you for signing up to Whattowatch. You will receive a verification email shortly.
There was a problem. Please refresh the page and try again.