VIDEO: Casualty shock: Zoe betrayed Max on her hen night! Watch it here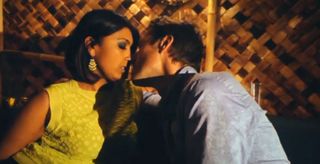 Well, who saw that coming? Zoe (Sunetra Sarker (opens in new tab)) with another man just before she's due to marry Max.
Really, Zoe?
Viewers who pressed the red button right after last night's episode (August 22) will have seen what happened…
Viewers tuning in to tonight's wedding drama (August 23) will see that Zoe's colleagues have hangovers but she's in an even worse way…
And no wonder.
Zoe blurts out a confession to Dylan at the hospital.
"It was some random at a club," she tells him. "I don't even know his name. Mark? Matthew? Mathew, Mark, Luke, John? I don't know."
"Why?" asks Dylan (William Beck (opens in new tab)).
"I don't know and that's what scares me," Zoe confesses.
That's not all that's going to scare her…
Without giving too much away, we can reveal that the Zoe-Max (Jamie Davis (opens in new tab)) wedding does go ahead - but goes up in flames.
There's a fight between Max and Louis (Gregory Foreman (opens in new tab)), a wedding lamp gets knocked over, the reception venue catches fire, a boat explodes and Zoe goes flying into the water.
Can Zoe and Max recover from all of this and have a happy ever after?
Watch the extra Casualty episode below, revealing Zoe's betrayal…and more.
http://www.youtube.com/watch?v=KfZTZdjRHCw
Don't miss the wedding drama on Casualty (opens in new tab), BBC1, Sunday, August 23, 8.00pm.
Get the latest updates, reviews and unmissable series to watch and more!
Thank you for signing up to Whattowatch. You will receive a verification email shortly.
There was a problem. Please refresh the page and try again.