David returns to Casualty... but is it too much too soon?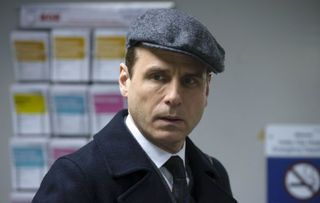 (Image credit: BBC)
Will Casualty's David hand in his resignation before the shift has ended?
After a traumatic breakdown bipolar sufferer David Hide bravely returns to work at Casualty this week. Unfortunately, not everyone is glad to see him…
Hospital porter Max is furious at David's return, as his breakdown nearly resulted in the death of Max's stepsister, Robyn, and her baby, Charlotte. Will there be a showdown when anxious new mum Robyn (Amanda Henderson) visits the ED with Charlotte?
Meanwhile, David (Jason Durr) has a resignation letter burning a hole in his pocket. Believing he's not welcome and unsure if he's capable of returning to work, throughout his first shift back the timid medic considers his options.
But when homeless alcoholic Mollie Drover (Scott & Bailey star Tracie Bennett) arrives in the hospital in dire need of surgery, David may be the only person who can convince her to have emergency life-saving surgery…
Can David save Mollie? And will he resign before the day is over?
David returns to the ED with trepidation – and a resignation letter in his pocket
David returns to the ED with trepidation – and a resignation letter in his pocket
If looks could kill… Max would be arrested! He's not happy David's back on the wards after endangering the lives of Robyn and baby Charlotte
David works closely with Dylan on his first shift back. Together they do their best to care for fragile alcoholic Mollie Drover (Tracie Bennett)
Dylan reveals Mollie needs life-saving surgery. She wants a DNR. Can kind-hearted David convince her to go under the knife and have a second chance at life?
David opens up to Molly about his mental health struggles, and his honesty helps convince her to agree to surgery. But she's not out of the woods yet…
Mollie collapses and David rushes her to the ED. Holby City's Mo Effanga (Chizzy Akudolu) races downstairs to assess Molly!
Mo agrees to perform surgery while distressed David looks on. Will Mollie live? And will David hand in his resignation letter? Watch the drama on BBC1 on Saturday, April 8 at 8.25pm
Get the latest updates, reviews and unmissable series to watch and more!
Thank you for signing up to Whattowatch. You will receive a verification email shortly.
There was a problem. Please refresh the page and try again.