Heart-breaking scenes in Casualty for Elle and Jacob as the police arrest their teenage son Blake!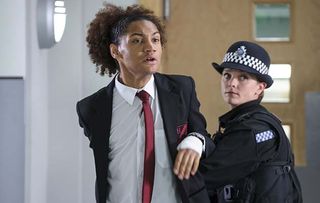 (Image credit: BBC / Alistair Heap)
Elle and Jacob are stunned when the police come calling…
There are heart-breaking scenes in Casualty this week as doctor Elle Gardner and nurse Jacob Masters look on helplessly as their teenage son, Blake, is arrested!
Jacob (Charles Venn) only recently discovered he was in fact Blake's father, after Elle (Jaye Griffiths) confessed her 17-year secret. Unknown to Elle, Jacob has since told Blake he's his dad – which is why the teenager is giving his mum and dad a wide berth.
This week in Casualty Elle is shocked when Blake is admitted to the ED with seriously injured schoolboy Miles. Elle is under the impression Miles is Blake's friend until Jacob reveals the horrible truth - Miles has been bullying Blake for months!
Jacob, Elle and Blake all turn on each other, as shocking twists and turns are revealed throughout the episode. When Blake is later arrested for more than one serious crime will the traumatised trio finally show a united family front?
When Miles Ashworth (Finney Cassidy) is admitted to the ED Elle and Jacob do everything they can to save the injured teenager
When Elle discovers the truth behind Miles' injuries she comes up with a shocking plan
Will Elle, Blake and Jacob show a united front when the police come calling?
Blake's arrested for shocking crimes. Did the teen go off the rails or is there more to the story?
There are highly emotional scenes as Elle realises the seriousness of the charges
Can Jacob put aside his anger at Elle so they can work together and help Blake, who's in deep trouble? Watch Casualty this Saturday on BBC1 at 8.20
Get the latest updates, reviews and unmissable series to watch and more!
Thank you for signing up to Whattowatch. You will receive a verification email shortly.
There was a problem. Please refresh the page and try again.