Christopher Maloney is evicted from Celebrity Big Brother house, as Gillian McKeith enters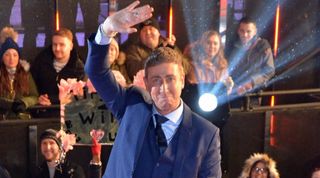 Christopher Maloney has become the fifth celebrity evicted from the Celebrity Big Brother house.
With the fewest public votes, the former X Factor finalist lost to Danniella Westbrook, Jeremy McConnell, John Partridge, Scotty T and Tiffany Pollard, who were all put up for eviction during a tense face-to-face nomination last week.
Christopher was greeted to loud boos from the crowd (Channel 5)
"That was a whirlwind, that was just crazy," he told host Emma Willis, as he added: "I'm so glad to be out of there".
One good thing has come from his time in the house as he patched up his relationship with former best friend Danniella.
"(Our friendship) is definitely repaired. We were there for each other throughout. The highs and lows in there were crazy, I can't tell you how chaotic it was," he said.
He spoke to Emma about Danniella and 'intimidating' Gemma (Channel 5)
Back inside the house, there was a surprise for the remaining housemates as TV nutritionist Gillian McKeith dropped in to prescribe four with a January detox which they will have to follow for the next few days.
She picked Stephanie Davis, Scotty T, John and Tiffany as the 'most toxic' in the house, although she said Gemma Collins only escaped her detox clinic because she was unwell.
Explaining her reasons, she said: "Stephanie, you're emotionally toxic and septic to Jeremy. And untidy – your floozy days are over.
She's in the House! Are the housemates ready for @GillianMcKeith? #CBB https://t.co/P5Tsz0Zexm
— Big Brother UK (@bbuk) January 26, 2016
"Scotty T, you party too hard … you brag way too much about your sexual prowess. Turbo dick is going to bed, by himself.
"Johnny, I've noticed you're a catalyst to chaos. You're always in the middle of argument, not causing it but in the middle.
"Tiffany, you're trying too hard to fit in and you're a sexual predator and you've started smoking again."
Gillian, 56, is best known for her Channel 4 show You Are What You Eat and nicknamed Dr Poo for her love of stool samples.
John thought he'd "failed miserably" at his task (Channel 5)
One thing she will not be pleased with is the group's caffeine consumption, which is on the rise after John secured a coffee machine for the house in a secret task.
He was told to get the housemates to compliment him five times, but the others had been told to sabotage the mission and insult him instead.
As John failed to get any positive comments from the contestants, the house won the use of a coffee machine for the day.
Jeremy kissed Scotty T during the dancing session (Channel 5)
Darren, on the other hand, was basking in admiration from the females of the house as Gemma dubbed him the 'British George Clooney' and Danniella said he was 'very good looking'.
He also ensured a moment of fun for the house before evictions when they boogied to his favourite songs, including Keane's Everybody's Changing, which were piped into the house as a prize for winning immunity.
But the majority of the day's action was still concerned with the fallout from Jeremy's kiss with Tiffany during a game of truth or dare which upset Stephanie.
Jeremy patched things up in bed with Stephanie later (Channel 5)
She was seen crying to herself in bed and muttered, "I've f***** up my whole life for nothing", but was later seen hugging Jeremy as he agreed to her demand not to kiss anyone else in the house.
Get the latest updates, reviews and unmissable series to watch and more!
Thank you for signing up to Whattowatch. You will receive a verification email shortly.
There was a problem. Please refresh the page and try again.