Victoria Christmas Special - Jenna Coleman: 'Victoria invented Christmas!'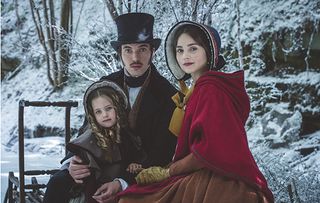 (Image credit: 4s)
Jenna Coleman and Tom Hughes - who return in the Victoria Christmas special on ITV on Christmas Day - on how Queen Victoria and Prince Albert introduced many of our festive traditions…
With snow, ice-skating, more Christmas trees than you can shake a stick at and some epic family rows, the feature-length special of ITV period drama Victoria is one of the most festive shows you'll see all year!
The episode is set at Christmas 1846 as Prince Albert (Tom Hughes) goes all out to recreate the magical memories of his childhood.
But Queen Victoria (Jenna Coleman) isn't feeling the seasonal spirit thanks to the reappearance of her mother (Catherine Flemming) and her scheming uncle, the King of Hanover (Peter Firth). However, an unusual gift gives her pause for thought.
Here, Jenna Coleman and Tom Hughes, both 31, tell us why the Victoria Christmas special (ITV, Christmas Day, 9.00pm) is an absolute cracker...
Victoria and Albert helped to shape our Christmases today, didn't they?
Jenna Coleman: "Yes, what's fascinating is that you see Christmas becoming Christmas as we now know it in this episode. Victoria has a line that I love about not expecting a forest at Christmas when she talks about all the trees that Albert wants them to have. We have Albert to thank for an awful lot that has shaped our world today and the traditional image of family and Christmas stems from them both."
Tom Hughes: "I didn't know about it prior to undertaking the role, but once I began delving into Albert's life and the times, it became apparent, not only how prominent Christmas was in their lives, but also, how there were many similarities in tradition between an 1840's Christmas and the modern day. Many of these things were introduced in the period and set a trend, which has endured until now."
The Christmas special is all about family for Victoria and Albert, what does that mean to them?
Jenna: "Family is Victoria's foundation. It's a safe haven for her. Victoria and Albert are both from broken homes and had dysfunctional childhoods and that makes a lot of sense in understanding the importance they place on family."
Victoria is given little African princess Sarah (Zaris Angel-Hator) as a gift in the Christmas episode, how does she feel about that?
Jenna: "Victoria's interest in Sarah is twofold. She is a princess from another world, and throughout Victoria's life she has always been curious about other cultures and traditions. Sarah also arrives an orphan, abandoned and alone, and I think Victoria can see something of herself in her. By trying to help Sarah rebuild herself, Victoria eases the wounds of her own childhood; it becomes cathartic."
(Read more Christmas TV features!)
Do you have a favourite scene from the special?
Jenna: "I love the one with Victoria and Albert's children coming in to open their presents on Christmas Eve. The children who play them were so excited and the set has a lovely familiar feel now that they are older, you feel like you are in a home, not a palace. The snow and ice-skating scenes are very special too and that set was stunning. Seeing the Victorians on ice is a beautiful sight. Also snow machines are really fun!"
Tom: "I'd been on skates at Winter Wonderland and the like, but getting used to skating on plastic pretending to be ice was a completely different kettle of fish. I just enjoyed it all. The smell of pine needles on set was very welcome. It was odd to then walk outside to June sunshine though!"
Get the latest updates, reviews and unmissable series to watch and more!
Thank you for signing up to Whattowatch. You will receive a verification email shortly.
There was a problem. Please refresh the page and try again.