Coronation Street star Elle Mulvaney on Amy pregnancy storyline: 'It's a bit scary'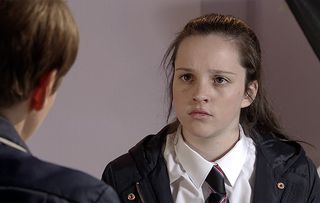 The Weatherfield teen is in the family way at just 14...
Tracy and Steve McDonald got the shock of their lives in Monday night's double bill of Coronation Street when they discovered that daughter Amy was pregnant.
Amy, who is just 14 years old, is the latest in a not-so-illustrious list of Weatherfield girls who've got themselves in the family way before they've taken their GCSEs – including Faye Windass, Katy Armstrong, Sarah Platt and Zoe Tattersall.
It's the biggest storyline to date for 16 year old actress Elle Mulvaney, who has played Amy since 2010.
We caught up with the young Coronation Street star Elle Mulvaney to chat about the challenging plot...
How did you feel when you were first told about this storyline? Were you daunted at all?
Elle Mulvaney: "I was mostly excited, but it is a bit scary to be given such a big responsibility because you don't want to mess it up. Teenage pregnancy is not uncommon; it affects a lot of people, so I knew there was a responsibility to do it justice. At the same time, I've taken it as a good opportunity to show what I'm capable of as an actress as Amy grows up. It's also great to have that bit of recognition, to know that people believe in me and I've got the support behind me to do it."
Have you had to do any research?
EM: "We've got a really great research team who worked with the Marie Stopes organisation, as there's a lot of debate between Amy and Tracy about her age and the choices she can make. They advised and looked at the scripts, so I was able to use what they gave me which was really useful, especially while I'm also working on my GCSE's."
Have there been any scenes that have been particularly challenging?
EM: "There was a scene where Amy's having a conversation with Steve and Tracy in the living room, then I had to go into the bathroom and cry. It's hard to change emotions so quickly; switching between Amy pretending to be happy to full on crying, so that was a challenge for me. I wanted the crying to be realistic, it's not always about full on sobbing sometimes it's more of stress crying and I had to find that inbetween point."
What is it like working with Kate Ford and Simon Gregson, who plays Tracy and Steve? Does Simon make you laugh? And does Kate ever fuss over you like a real mum?
EM: "Of course Simon makes me laugh, he's Simon! They honestly act like my real parents - genuinely, some of the things they ask me are just like my own parents. They're really fun to work with, and can be really uplifting between takes - if you're filming emotional scenes, that really helps.
"They're great for giving me a confidence boost, and offering really good advice. They've both been in the show for so long that they're really inspiring to work with, and they can help me look at different ways of playing scenes. They also give me a lot to live up to which is really nice."
You've got your GCSE exams coming up this year. Is it hard juggling Corrie with your schoolwork?
EM: "Because I've been doing this for nine years now, you kind of get used to it; catching up the school work when you're off. I'm lucky to have such great friends who send me all the pictures of work I've missed, and my teachers really help with getting the work to me and I just try and do it alongside working on set.
"As soon as I come off set, I go into tutoring to catch on the schoolwork and then it doesn't pile up so it's not actually that bad. You get into the rhythm of juggling it and it just becomes second nature."
Coronation Street continues on ITV.
Get the latest updates, reviews and unmissable series to watch and more!
Thank you for signing up to Whattowatch. You will receive a verification email shortly.
There was a problem. Please refresh the page and try again.