Bethany's No 1 bully befriends her then turns on her and 'she can't deal with it alone,' says Corrie's Lucy Fallon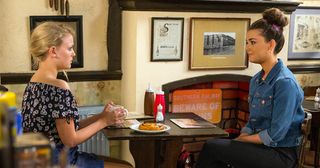 (Image credit: Joseph Scanlon)
Corrie star Lucy Fallon reveals that when the bullies step up their attacks on Bethany Platt, the usually tough girl needs help, but has no one to turn to
Her mum's had a breakdown and a lonely Bethany faces a new battle against her school bullies in Coronation Street. Lucy Fallon reveals the full story to Soaplife...
Lead bully Lauren plays a mean trick on Bethany, doesn't she? "Yes. Lauren [Shannon Flynn] has been picking on Bethany at school, but then she makes out she really wants to be Bethany's friend and she suggests they look for holiday jobs together. Bethany believes her and she's delighted, but it turns out to be all lies!"
How does Lauren find out about Sarah being ill? "Bethany and Lauren are in the Roy's Rolls and Lauren's doing her 'I'm really your friend act' when she hears Alex [Liam Bairstow] asking Bethany how her mum's been, mentioning he's been to a psychiatric ward himself. So Lauren kind of twigs that Bethany's mum has gone a little bit psychotic."
What happens next? "Lauren texts her bully friends and, when Bethany and Lauren leave the cafe, there's a big group of girls waiting for Bethany and they, plus Lauren, start chanting 'Psycho! Psycho!' It gets nasty and Bethany's extremely upset."
She needs her mum! "Yes, but she can't talk to Sarah [Tina O'Brien] because of everything that's going on with her. Bethany feels very isolated and scared at the moment. It's a very bad time for her."
You wouldn't expect a feisty girl like Bethany to be bothered by bullies… "Maybe not, but it shows how bullying can happen to anyone. It's good to see Bethany's vulnerable side. She may be ballsy on the surface, but she's a normal teenage girl underneath it all and she does have feelings. Just because she's feisty, it doesn't mean people aren't going to pick on her."
Why are they picking on her? "There are a number of reasons. She's different to the other girls because she lived in Italy for years. Maybe they're jealous of her style. Plus, being relatively new to the school makes her a target. It's a minefield."
How bad is the bullying going to get? "I don't know exactly, but it's a slow-burning storyline, rather than one that will be quickly resolved. I've been told it will continue until well into autumn."
What advice would you give Bethany? "To tell an adult she trusts and she can rely on. Her aunty Kylie [Paula Lane], perhaps? Or maybe her grandma Gail [Helen Worth]. Bethany certainly can't deal with this on her own."
https://youtu.be/7op650vIYH4
Coronation Street, ITV
Thank you for signing up to Whattowatch. You will receive a verification email shortly.
There was a problem. Please refresh the page and try again.