Callum's body found in Corrie…Jason in the frame for murder!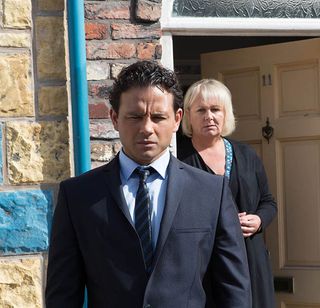 (Image credit: Mark Bruce)
What's left of Callum Logan (Sean Ward (opens in new tab)) will be discovered soon and things will get ugly – but not just for the Platts…
Corrie has always said Callum's body would be found "at the end of spring or early summer". And that's just about where we are…
So we reckon Callum's body is about to be found down that drain… But we don't think Kylie will be the first person that the police go after when they start investigating their whodunit…
We think Jason Grimshaw is going to find himself under suspicion and will be jailed for Callum's murder.
"The discovery may not directly impact the characters you think it will," said the then Corrie boss Stuart Blackburn.
What we think will happen is that when the cops start asking questions, people will remember that Callum had Jason beaten to within an inch of his life…
A killer needs motive, method and opportunity… Jason's motive is revenge. His method is a whack with one of his tools – which is what Kylie used. His opportunity… Well, the cops can think Callum turned up at the Platts' house and Jason was there as the builder for Gail's granny flat.
It's all going to fall conveniently into place for the cops… And for Jason actor Ryan Thomas (opens in new tab)'s departure from Corrie.
Jason will be an easy target for the police, as he's barely known what day of the week it is since his dad, Tony, was found dead.
Jason is still getting over the death of his dad – and we think he has more trouble coming
And Phelan (Connor McIntyre) (opens in new tab), who has been acting so supportive, will be happy to have Jason out of the way so he can get his hands on his building business.
But Kylie actress Paula Lane is going on maternity leave later this year – which makes us think Jason won't be the Number One suspect for long.
Coronation Street (opens in new tab) continues on ITV, Monday, May 2, 7.30pm
Get the What to Watch Newsletter
The latest updates, reviews and unmissable series to watch and more!