Coronation Street debutant Shayne Ward: 'I can't wait for people to shout 'Aidan!' at me'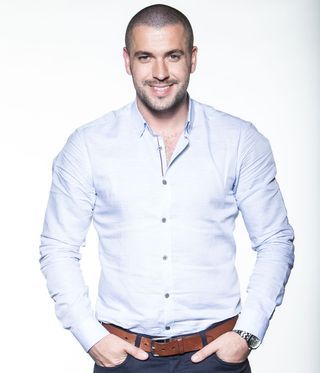 (Image credit: Joseph Scanlon)
Shayne Ward tells Soaplife how he's 'beyond excited' to be playing Aidan, Coronation Street's latest member of the Connor clan…
It's 10 years since Shayne Ward won The X Factor, but he reckons he has the show to thank for his new role in Coronation Street, as Michelle Connor's distant cousin, Aidan.
"I wouldn't be on Corrie now if I'd never done X Factor," Shayne (opens in new tab) insists. While Shayne's excited about his new acting job, he's also got one eye on the upcoming new series of The X Factor…
"I think the new panel is great," he says. "Although my old mentor Louis Walsh has gone, it's important to make changes because the show has to be kept fresh. The new panel members will inject new life – Nick Grimshaw (opens in new tab) is at the centre of everything as a Radio One DJ and Rita Ora (opens in new tab) is a great artist and singer. It will be fun to see what they bring to the show."
Just as it will be fun to see what Shayne brings to Corrie...
Are you excited to be playing Aidan Connor, Shayne?
"I'm beyond excited! Like Aidan, I'm a Mancunian with Irish heritage so the role fits me like a glove. A Manchester lad in the iconic Manchester show… well, it doesn't get much better. My family have always been massive fans so it really is a dream come true for me. I'll never forget the look on my mum's face when I told her I was joining the Street – her smile was incredible."
How long will you be in Weatherfield?
"I'm signed for a year to begin with. Longer than that, I guess, depends how I go down and how the storylines work out. I'd love to stay for longer. I'd be a fool to turn it down."
Is singing on the back boiler for now then?
"No way. I'm carrying on with my music. I'm 30 now and feel I can do both. I was acting and singing when I was in the West End musical Rock Of Ages (opens in new tab) and then doing the tour of War Of The Worlds (opens in new tab) - although it's inevitable I'll start being seen more as an actor now I'm in Coronation Street. My album, Closer, came out a few months back – my first for four years. I would hate to just close the door on my career as a singer."
Have you always wanted to act, too?
"Being from a massive Irish family, we were always role-playing, acting and joking around with each other. Then later, when I was doing music videos, I enjoyed the acting part and seemed able to take direction very well. The first professional acting I did was Rock Of Ages. I remember going for the first audition and I had to do an American accent. Luckily for me, I was playing a drunken rock star so everything was a slur. I got the part and caught the bug! I believe it was always there, though. I also believe everything happens for a reason."
Are you worried people will say you only got the role because you did X Factor?
"Er, I did have to audition, you know! Similar things were said about Kym Marsh (opens in new tab) when she joined Corrie 10 years ago, and look how brilliantly she's done. Kym was instantly pigeon-holed and I know I will be, too, but I like a challenge."
You must be used to the fame game by now…
"I'm used to being recognised but being in Corrie, where you're on the nation's TVs four or five times a week, will be more intense, I think. I don't know how I'm going to feel about that. But I can't wait for people to start shouting 'Aidan' at me when I'm out and about. It'll mean my character's going down well. Bring it on!"
Coronation Street (opens in new tab), ITV
Get the latest updates, reviews and unmissable series to watch and more!
Thank you for signing up to Whattowatch. You will receive a verification email shortly.
There was a problem. Please refresh the page and try again.