Coronation Street: 'Erica and the baby are Nick's priority, not Carla'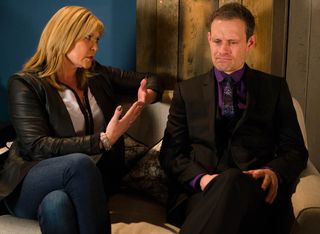 Ben Price tells Soaplife that Nick's shocked then delighted when Erica returns to Coronation Street - and tells him she's pregnant!
Nick and Carla's blossoming romance is nipped in the bud when Erica returns with some big news for Nick: she's pregnant. "He immediately decides he'll definitely be there for her,' Ben tells Soaplife.
Has Nick always wanted to be a dad?
"Yeah, totally. He always wanted his own little family. When he was with Leanne [Jane Danson], he had this image of them with a baby, but that didn't work out. Once he gets over the shock of Erica being pregnant, Nick's delighted at the prospect of being a dad."
What about Carla in all this?
"It's tricky. He really likes Carla [Alison King]. She's strong and independent and, like him, she's been through a lot. She's also funny and gorgeous and, yes, Nick really fancies her. They've been taking things slowly, each waiting for the other to make the first move. But Erica's news changes everything."
How does Carla react to Erica's pregnancy?
"She tells Nick to go for it. She realises nothing will now happen between them, and seems to just brush it off. Nick's a bit gutted because he can see how good they would be together. But Erica [Claire King] and the baby have to be his priority."
We think Gail might be a bit trickier…
"She hates the fact Nick has had a fling with Erica and she'll go mad when she hears Erica is pregnant. Gail [Helen Worth] hates Erica! She'll never accept her in the family. Gail assumes every woman is out to trap Nick and there's no female in the world good enough for her boy!"
Coronation Street, ITV.
Get the What to Watch Newsletter
The latest updates, reviews and unmissable series to watch and more!