Coronation Street's Alan Halsall: 'It's going to end very badly for Maria'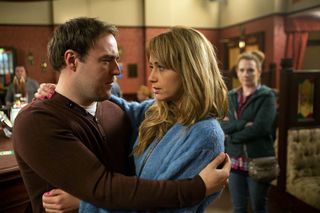 It was bad enough for Tyrone when he heard Kirsty had been released from jail and he was worried she might try to steal little Ruby and wreck his relationship with Fiz. But when he starts receiving texts from a number unknown, he's convinced his violent ex-wife is stalking him. "Tyrone's horrified and insists that he and Fiz barricade themselves in," Alan tells Soaplife. "Then Maria arrives. Tyrone shows her the text and she pretends she knows nothing about it and comforts him."
And life for Tyrone is about to become even more troubled, says Coronation Street star Alan Halsall.
Why does Tyrone confide in Maria rather than Fiz?
"Fiz hasn't handled the Kirsty thing very well. She tries to call 'Kirsty' and shouts down the phone at her, but Tyrone thinks that she's causing more harm than good. He also doesn't want to worry her further when he receives more texts. The only other person he can think of turning to is Maria. Obviously, that's the wrong choice as it's really Maria sending the texts."
Isn't he wary of Maria after she tried to kiss him?
"I wouldn't say he was wary, but he does feel a bit uneasy. He's shocked as he wasn't expecting her to try to kiss him. But Maria was so apologetic and mortified when Tyrone pushed her away, and he thought she was just not thinking straight."
How would he feel if he knew that Maria was really sending the texts?
"Shocked and appalled. He trusts Maria, she's his friend and I think he would feel completely betrayed."
What does he think of all her talk about him being her 'first love'?
"Tyrone loves Fiz - it's as simple as that. He does have feelings for Maria, but only as a friend. He's fond of her, she was his girlfriend and he was in love with her once, but not any more."
Do you think this is all going to end badly for Maria?
"Maria's in a dark place and isn't thinking straight. She's deluded when she thinks she and Tyrone would be happy together. I think this is going to end very badly for Maria. She's playing with peoples' lives and that's never going to end well, is it?"
Get the latest updates, reviews and unmissable series to watch and more!
Thank you for signing up to Whattowatch. You will receive a verification email shortly.
There was a problem. Please refresh the page and try again.