Coronation Street star reveals the BIZARRE plot that may be in store for Liz and Jim McDonald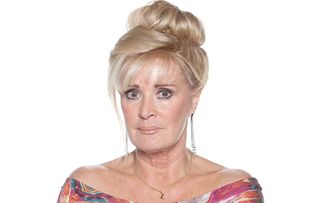 'Time for din dins, Jim!'
There have been some brilliant storylines in Coronation Street over the years… and some downright bizarre ones. Anyone remember Andy McDonald's girlfriend, Anne Malone, poisoning fish fingers with WD40 at the Firman's Freezers store, and meeting a grisly end when she got locked in a freezer?
And when it comes to bonkers plots, it seems one may be in the offing for Liz and Jim McDonald.
Beverley Callard, who plays Liz, reveals she recently heard a rumour that writers were planning to bring Jim back to the soap in a wheelchair.
Liz would then exact revenge on her vulnerable ex husband for his recent twisted scam in which he fooled her into believing that their daughter Katie, who died at birth in 1992, was in fact alive.
Reveals Beverley: "There was a rumour - I don't know if it's true – but there was a rumour going round upstairs. Someone told me on the top floor, where all the powers that be are, that Jim comes back in a wheelchair and Liz treats him like Bette Davis (in the film What Ever Happened to Baby Jane?). She's like 'Time for din dins Jim!'
"I thought 'Right, I love this!' I would love that – serving him a budgie for his dinner! That would be great though, wouldn't it?"
For those who haven't seen the film What Ever Happened to Baby Jane? the 1962 thriller stars Bette Davis as Jane, an alcoholic and mentally ill former child star, who mistreats her paraplegic sister Blanche. In one famous scene, Jane serves up Blanche's dead parakeet on a dinner platter.
There's been no confirmation from Coronation Street bosses that this dark storyline is a go-er for 2019 – in fact, this may well turn out to be a case of Beverley having had her leg well and truly pulled.
But Jim McDonald certainly deserves to get his commupance for putting Liz through the wringer. And having a lycra-clad Liz feeding him a dead budgie for his tea certainly makes for a more colourful form of punishment than a stint in Weatherfield prison.
Get the What to Watch Newsletter
The latest updates, reviews and unmissable series to watch and more!
Alison Slade has over 20 years of experience as a TV journalist and has spent the vast majority of that time as Soap Editor of TV Times magazine.
She is passionate about the ability of soaps to change the world by presenting important, issue-based stories about real people in a relatable way.
There are few soap actors that she hasn't interviewed over the years, and her expertise in the genre means she has been called upon as a judge numerous times for The British Soap Awards and the BAFTA TV Awards.
When she is not writing about soaps, watching soaps, or interviewing people who are in soaps, she loves going to the theatre, taking a long walk or pottering about at home, obsessing over Farrow and Ball paint.