Coronation Street's Sue Nicholls: Audrey Roberts thinks Lewis is her final chance of love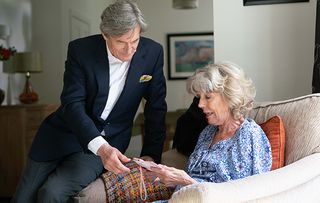 But Gail catches smitten Audrey getting cosy with Lewis
It's all kicking off on Grasmere Drive next week in Coronation Street – and that's something we never thought we'd say. Unable to resist the charms of Lewis Archer, Audrey Roberts decides to embark on a secret relationship with the smooth-talker, and invites him to stay at her place. But neither she nor Lewis have counted on Gail poking her head up at the front window and catching them out.
Audrey's well aware her family won't approve of them being together, and pal Claudia reveals her own concerns when Audrey earlier decides to confide in her. But Aud feels she has to follow her heart.
"She thinks she will always wonder, 'What if?' if she doesn't do this," says Coronation Street legend Sue Nicholls, who plays the smitten crimper.
"She's 78 and might not get another chance at love. Yes, it might go wrong, but if it does, she is no worse off. And actually, it might all work out."
With her mind made up, Audrey comes up with a cunning plan, and tells Gail that she has won a cruise. But it's a ruse cruise, a mere ploy to enable her and Lewis to spend uninterrupted time together. Gail buys it, but sadly for Audrey, it's not for long. When Audrey gives her the name of the ship she's sailing on, Gail checks it out and discovers it was scrapped months ago.
Worried, she decides to pay her "mam" a visit. When Claudia finds out, she texts her friend to warn her, but it's too late. Audrey gets the message just as Gail arrives on the scene to find her and Lewis having a romantic dinner. Still, it could be worse – at least they hadn't moved on to dessert, if you catch our drift.
Unsurprisingly, Gail isn't raising a toast to the happy couple. Lothario Lewis conned her out of £40k, remember. Though he's now paid her back, she still thinks he can't be trusted, and tells Audrey it's him or her.
Back on the cobbles, Gail tells David that his gran has fallen under Lewis' spell and needs 'saving', and the pair then team up to try and make her see sense.
David summons Audrey to the salon and locks the door behind her, as Gail appears from the back and announces that she's going to stage an intervention!
But will Audrey Roberts do as she's told, or will she stick to her guns and put her fella before her family?
Coronation Street continues on ITV.
Get the latest updates, reviews and unmissable series to watch and more!
Thank you for signing up to Whattowatch. You will receive a verification email shortly.
There was a problem. Please refresh the page and try again.