Coronation Street's Samia Ghadie: 'This is a dark time for Maria'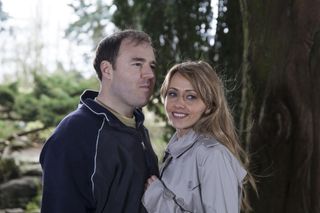 Coronation Street's Samia Ghadie warns Soaplife that Maria goes into meltdown when Tyrone finds out she's the one who has been terror-texting him… And so does he!
How does Tyrone find out Maria is behind the texts?
"Maria has just declared her love for him when he sees Fiz's number flash up on her phone and he realises she's been pretending to be Kirsty. Maria has a complete meltdown then. Tyrone is quite aggressive towards her, which is really out of character for him and she just breaks down in tears. It's a very dark time for Maria."
What does she say to Tyrone?
"She tells him she did it because she loves him. That makes no sense to anyone else but it makes complete sense to Maria, who's clearly not in a good place mentally and just not thinking straight. What would be weird behaviour to others just seems normal to Maria right now."
Does Maria really love Tyrone?
"I think Maria genuinely does want Tyrone back but she certainly hasn't gone about it in the right way. She's also not right in wanting Tyrone back as he's with Fiz and he's happy. What she's doing makes sense in her head because he was her first love and she thinks if she'd have stayed with Tyrone, then everything would be all right and none of this stuff with Marcus would have happened."
What if Tyrone and Fiz report her to the police?
"Maria will be terrified. She's basically had a nervous breakdown, she's not herself and I think it's a result of what's happened over the past few years. She's been heartbroken so many times and been through so much stuff. Finding Marcus with Todd just tipped her over the edge."
If Tyrone does take pity on her, what will she do?
"Hopefully leave Weatherfield for a while to sort herself out. It's not just Tyrone and Fiz she's upset, she's also worried about what other people in the Street will think about her. She needs to get away from Weatherfield and Marcus and get back to being Maria."
Get the latest updates, reviews and unmissable series to watch and more!
Thank you for signing up to Whattowatch. You will receive a verification email shortly.
There was a problem. Please refresh the page and try again.