Coronation Street's Sean Ward: The Platts close ranks on Callum after Max is run over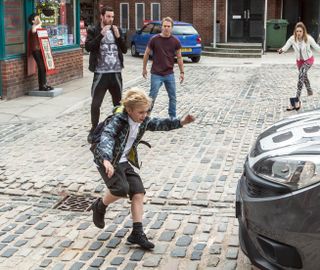 (Image credit: Joseph Scanlon)
Callum's reign of terror reaches new heights and the Platt clan are in more danger than ever, Coronation Street's Sean Ward tells Soaplife...
It seems like a long time ago now that Callum was falling in love with his son, Max. Now, Callum is only worried about his own future…
"He's in debt and he has to pay up, but he doesn't have the money, so he blackmails David and Kylie," Sean (opens in new tab) says. But it ends up being Max who really suffers…
Who does Callum owe money to?
"It's drug money. Things have spun out of control in the druggie world he inhabits. He's in debt to a bigger gang leader and he's forced to change his game plan. First of all, he blackmails Kylie [Paula Lane (opens in new tab)] and David [Jack P Shepherd (opens in new tab)] over something to do with Max."
He uses his own son as a pawn?
"That's it. Callum believes he loves Max [Harry McDermott (opens in new tab)], but the boy just becomes another chess piece in his game. It's more about how much Callum can get out of Max rather than how much he loves the boy."
And his actions have tragic consequences for Max, don't they?
"He gets run over. It's a direct result of an argument between Callum and Max. The band of Platts turn against him. He wants to help, but they won't let him. That hurts."
It sounds like you feel sorry for him!
"I do have some sympathy for Callum. I don't know what's happened to him, in terms of mental stability, but it comes down to boredom. There are so many young lads out there without employment, without a chance, without opportunity… They end up down these roads and finding it fun to cause other people trouble."
How far will Callum go to bring down the Platts?
"By the time of the live episode, he'll be prepared to do absolutely anything."
Are you looking forward to working live?
"I'm very excited, but absolutely bricking it, too. I think I have the opening line."
Will Callum get his comeuppance?
"Every soap villain does in the end. It will all catch up with him and what he does with that and how he uses it to his advantage is…interesting."
Coronation Street (opens in new tab), ITV.
Get the What to Watch Newsletter
The latest updates, reviews and unmissable series to watch and more!