Corrie boss Stuart Blackburn: Killing off Kal was a 'biggie' (VIDEO)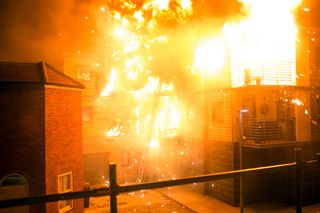 Coronation Street series producer Stuart Blackburn says killing off Kal Nazir and one other character and taking away the option of the actors ever returning was a big call.
Corrie has had a massive week due to the explosive fire at Victoria Court (home of Carla Connor) and high-octane stunts which have kept viewers guessing about who lived and who died. On Thursday it was revealed that Kal (Jimi Mistry) and, most likely, Maddie Heath (Amy Kelly) were victims of the fire.
Stuart spoke to What's on TV about killing them off: "It's really, really tough. This is people's live and careers... and especially these two characters, they're so wedded to exisiting families and clans on the Street that they could have always come back, so to take that option away from them is a biggie. But both the actors have been absolutely super professional. They get it. "]
"What I hate is big stunts like this and the day after somebody's got a plaster on, somebody's got a black eye and a week later nothing's changed. This had to have consequences!"
Stuart also reveals 'fun' Steve McDonald will return soon and there will be an 'upward trajectory' for him and Michelle and discusses the arrival of Tracy's ex husband, Robert Preston (Tristan Gemmill).
Get the latest updates, reviews and unmissable series to watch and more!
Thank you for signing up to Whattowatch. You will receive a verification email shortly.
There was a problem. Please refresh the page and try again.