Corrie's Faye Brooks: 'Kate has a ring on her finger... but she's getting cold feet'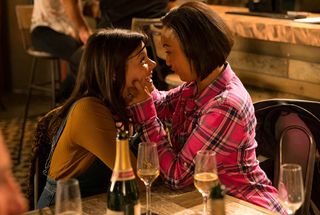 (Image credit: Joseph Scanlon)
Coronation Street's Connor clan plan a special birthday surprise for Kate, but Faye Brooks (opens in new tab) tells Soaplife she's not as happy about it as she seems…
So how does Kate react when Caz appears?
"Kate seems delighted to see Caz [Rhea Bailey (opens in new tab)], but she's secretly worried because the relationship is so intense – they've only known each other seven months, haven't seen that much of each other and yet they're planning to marry. Kate is very wary of being under the thumb or being controlled in any way - she likes to have her own mind."
Why does she confide in Michelle about the relationship?
"Kate can't ignore the fact that both the relationship and Caz are so intense. She's close to Michelle [Kym Marsh (opens in new tab)] and feels comfortable enough to be honest with her. Kate finds she can't be honest with her dad [Richard Hawley (opens in new tab)] because he's so keen on the wedding and Kate getting married."
Are Kate and Caz right for each other, do you think?
"Like I say, they got engaged very, very quickly. Caz can be quite needy and clingy because she's away so often. The only thing that keeps Caz going is the fact that she has Kate to come home to. It's not the same for Kate."
How keen is Kate on a wedding?
"Well, she has a ring on her finger and she's set the date for April, so a part of her must be keen! But she has possibly been swept up in the romance of it all and the intensity."
Is she getting cold feet?
"I think so. But she knows her dad really wants this wedding to happen, and because Kate is such a daddy's girl, she wants to make him happy."
Would you like to film a soap wedding?
"Yes! But I don't know if it will happen yet. As it stands they're getting married - whether they will or not, I don't know!"
Coronation Street (opens in new tab), ITV.
Get the latest updates, reviews and unmissable series to watch and more!
Thank you for signing up to Whattowatch. You will receive a verification email shortly.
There was a problem. Please refresh the page and try again.