Corrie's Jack P Shepherd: 'All the Platts are arrested after Callum's body is discovered!'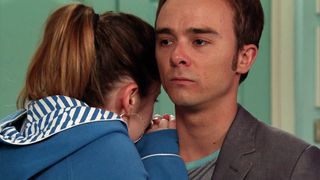 David is feeling the heat when what's left of Callum is discovered in that drain… So he puts Jason in the frame.
Jack P Shepherd (opens in new tab) explains everything to Soaplife…
What is David's reaction to the discovery?
"Although Sarah [Tina O'Brien] (opens in new tab) has looked like letting the cat out of the bag a few times, David really thought Callum's body would never be discovered and that they'd got away with it, scot free."
Clearly not!
"No. There are some scenes when you see him panicking, but he has to keep it to himself. Kylie [Paula Lane (opens in new tab)] and Sarah are falling apart, so he has to stay strong. All the Platts are suspects and, initially, we all get arrested because we were all in the house. The pressure starts to get to David, but he still thinks they'll get away with it somehow…"
Who is he keenest to protect?
"Kylie and the kids. He'd let anyone else go down for it. It would be painful if Sarah went down for it, but he wouldn't be bothered as long as Kylie and the kids were OK. He'd even take the rap for Kylie if he had to."
Would he really frame Sarah?
"Not if Kylie's got anything to do with it. She's much more compassionate towards Sarah and she says they all have to get away with it or none of them do."
So is that why David decides to frame Jason?
"There's a scene where David's questioned by the police and it's not looking good for him. So he says to them, 'There are other people who had a grudge against Callum…' So the police ask David who else had access to his house and he replies, 'The builders'. David then adds that Jason [Ryan Thomas] didn't like Callum [Sean Ward] (opens in new tab). The police go and question Jason and he's arrested."
Does David feel bad about this?
"Not at all. It means someone else will get done. Jason's thick, so David thinks he'll hopefully incriminate himself somehow."
How do Kylie and Sarah react to David's plan?
"They feel slightly more guilty, but David says they have to roll with it because it's a way out."
Coronation Street (opens in new tab), ITV
Get the What to Watch Newsletter
The latest updates, reviews and unmissable series to watch and more!