Corrie's Sue Cleaver: 'Eileen and Michael get frisky, then he keels over!'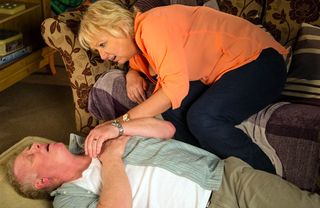 Coronation Street (opens in new tab)'s Sue Cleaver tells Soaplife how Eileen's passion play might have killed Michael!
Eileen's used to heartbreak - but one stage-managed by her own son, Todd (Bruno Langley (opens in new tab)), is a new low for her. "Her real internet boyfriend, Adrian, takes off in disgust when Todd reveals that Eileen has been in contact with another man, Jeff, on the web," says Sue (opens in new tab). "But then the penny drops that Jeff has been invented by Todd…"
And Eileen finds herself seeking comfort from her new lodger, Michael. What with her, Michael and Jason (Ryan Thomas (opens in new tab)) all under the same roof, the house is like Heartbreak Hotel…
How come Eileen and Michael (Les Dennis (opens in new tab)) get up close and personal?
"It happens after Gail [Helen Worth (opens in new tab)] has barged her way into Eileen's, insisting on waiting for Michael, who's been to see his ex-wife, Susan. Michael's furious to find Gail there when he returns and immediately goes to the pub. He gets very drunk and Eileen ends up helping him back to hers. They're trying to cheer each other up when Michael leans in for a kiss."
And?
"Eileen responds! They end up snogging on the sofa."
And Michael gets over-excited…
"He starts struggling for breath and then he collapses on the floor! Eileen starts panicking and then there's a knock on the door. It's Gail - she may be Eileen's nemesis, but Eileen's kind of relieved to see her. Obviously she doesn't tell Gail why Michael collapsed."
What happens next?
"They call an ambulance and Michael's taken to hospital. He comes round, sees Gail and orders her to leave, which really upsets her. The doctors want to know what Michael was doing before his collapse and Eileen explains that they were getting a bit frisky. There's a very tricky moment when she realises that Gail may have overheard her, but it turns out she hasn't."
Bet Gail finds out at some point, though?
"Well, Eileen won't tell her! Gail will be furious if she does find out and it will get very, very nasty. They've got physical before, remember!"
Is there a future for Eileen and Michael if and when he recovers?
"He's not really her type. To be honest, after what happened with Adrian [Mark Moraghan (opens in new tab)] and 'Jeff', I think she'll be off men for a while."
Will she ever find happiness?
"I hope not. She far more interesting to play when she's unhappy."
Coronation Street (opens in new tab), ITV.
Get the latest updates, reviews and unmissable series to watch and more!
Thank you for signing up to Whattowatch. You will receive a verification email shortly.
There was a problem. Please refresh the page and try again.