Corrie's Tisha Merry: 'Steph calls Jamie's bluff – and he posts the X-rated pictures!'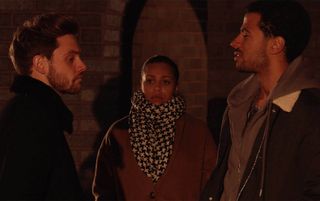 Coronation Street's Tisha Merry (opens in new tab) tells Soaplife what happens when Steph discovers her ex, Jamie, is using X-rated photos of her to blackmail her brother, Luke…
Luke promised Steph he wouldn't race again. So, when he does, she wants to know why… "And Luke [Dean Fagan (opens in new tab)] admits that Jamie's blackmailing him to race by threatening to post intimate pictures of her on the internet," Tisha reveals. "Steph feels physically sick about this act of revenge porn and simply can't comprehend that Jamie, whom she used to love, would sink so low."
What happens when Steph confronts Jamie?
"He's clearly ashamed of what he's done. He tries to make excuses, explaining about the amount of debt he's in and that he had no choice. Steph really has a go at him, his eyes fill up and he starts to crack. She decides to call his bluff and tells him if he's going to post the pictures of her then he should go ahead. She doesn't think he will but... he does."
And?
"Steph really panics. She feels sick. She thought she'd got through to Jamie [James Atherton (opens in new tab)] and that he wouldn't actually go through with it."
So now she has to tell Andy, right?
"Of course. She's very happy with Andy [Oliver Farnworth (opens in new tab)] and doesn't want him to see her in this light. Andy's furious – not at her but at Jamie. Plus, he's concerned about the number of people who'll see the pictures."
How does she feel about that?
"It's like a kick in the stomach to her. All her family and friends see the pictures and are calling her, asking her what's going on. They're all gobsmacked, but nobody can really understand the turmoil she's going through."
Does she blame herself in any way?
"Steph questions how she could ever have been so trusting of Jamie. In addition to feeling mortified, she's also sad that somebody she once loved has turned out like this. I think it's really important to raise awareness of issues like this. People need to know how damaging revenge porn can be. For Steph, those pictures will always be there and she will never, ever forget this horrible ordeal. It will be with her forever."
Coronation Street (opens in new tab), ITV.
Get the latest updates, reviews and unmissable series to watch and more!
Thank you for signing up to Whattowatch. You will receive a verification email shortly.
There was a problem. Please refresh the page and try again.