Corrie's Bruno Langley: Todd's facial scarring is 'karma for his bad deeds' (VIDEO)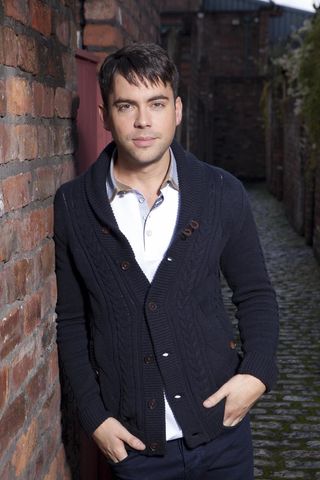 Coronation Street star Bruno Langley says the scarring his character Todd is left with after he's attacked by muggers is karma - 'it's his bad deeds come back to him'!
The Corrie bad boy has recently been trying to atone for his twisted behaviour, and invites his family to dinner. But when they stand him up, he wanders depressed into the centre of Manchester. When he's confronted by muggers he stands up to them and is beaten so badly he's left disfigured.
Bruno told What's on TV: "Yeah it's going to be a permanent thing... Basically, every time he looks in the mirror. I personally think it's karma, it's his bad deeds come back to him."
Of course, being Todd, he doesn't see it as his fault and becomes reclusive. "He ultimately does blame his family," says Bruno. "There are scenes where Tracy Barlow comes round and tells him to stop being so stupid, that scars are sexy, that gets him out of the house!"
Bruno says it took two hours in make-up to create his injuries. "It was really weird looking in the mirror and seeing all this horrible scarring," he said. "I think the audience are going to be a bit shocked. It's a bit like you don't want to look at it... and that's how I felt! So I'm sure that's how the audience will feel."
Watch the interview with Coronation Street's Bruno Langley, above.
Get the latest updates, reviews and unmissable series to watch and more!
Thank you for signing up to Whattowatch. You will receive a verification email shortly.
There was a problem. Please refresh the page and try again.