Corrie's Hayley Tamaddon: From Weatherfield to Chicago!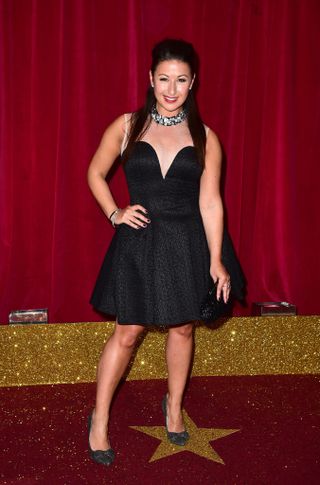 (Image credit: PA ARCHIVE IMAGES)
Hayley Tamaddon didn't want to leave Corrie last year but now she's singing and dancing for joy in the touring version of the musical Chicago (opens in new tab)…
You're playing the famous character Roxie Hart in Chicago. Is that daunting?
"Chicago, in my opinion, is the best musical there is. And the touring version is really full on. There's lots of singing, dancing and acting – and all at the same time. And my character's barely off stage. It's the hardest thing I've ever done."
How did you prepare for the role?
"I've watched everything I can about Chicago on YouTube: the famous Rene Zellweger and Catherine Zeta Jones film, of course; the making of the film; and even footage from an old Ginger Rogers movie called Roxie Hart. Playing Roxie is really hard work but I'm loving it."
You must need to be really fit!
"I wanted to play this part for years but always worried I wouldn't be fit enough. I'm getting there, though. My stamina is definitely improving. We have a 45-minute warm-up session every morning and then a vocal warm-up too."
Do you like being on tour?
"It's great fun when you've got a good group of people, and the Chicago team are brilliant. We've bonded really well. It's a strange thing, this business called show business! There can't be many lines of work where you start a job and, within a couple of days, you're hugging each other and zipping each other into clothes!"
The Chicago tour is going to run for a year. Will you do the whole tour?
"I've signed up for six months which will take me up to mid-summer. That works very well for me. I feel a year would be too long because then I wouldn't be able to do any TV work for ages. I feel blessed in that I'm able to move between TV and theatre."
You didn't want to leave Corrie, did you?
"No but it was the obvious thing for my character, Andrea, to do. Her boyfriend Lloyd [Craig Charles] was leaving Weatherfield so it made perfect sense for Andrea to go with him. And I couldn't have asked for a better exit – it was during the live episode, of course."
Do you think Andrea could ever return?
"She could indeed. In many ways, it doesn't feel like I've left the Street. My boyfriend and I have just bought a house in Manchester – it's where we're settling down – and I bump into Corrie people all the time, as well as seeing them socially."
Find out where you can see Chicago at chicagothemusical.com/uktour.php
Thank you for signing up to Whattowatch. You will receive a verification email shortly.
There was a problem. Please refresh the page and try again.