Corrie's Joe Duttine: 'Sally kissing Kevin is a double betrayal for Tim'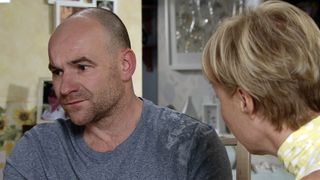 Will Tim still want to marry Sally once he finds out she kissed Kevin? That's what Soaplife asks Coronation Street (opens in new tab)'s Joe Duttine...
Tim's been looking forward to marrying Sally - but discovering that she kissed her ex husband, Kevin, changes all that – and in the week of Coronation Street's live episode…
"I'm not saying how Tim finds out about the kiss, but he's really upset and very disappointed in both Sally and Kevin," says Joe (opens in new tab). "The woman he loves and his best mate, well, it's like a double betrayal."
Do you want Tim to marry Sally?
"I did until Sally snogged Kev [Michael Le Vell (opens in new tab)]. The fact she did that has made me as a viewer question it all. It has to be addressed because the avid Coronation Street followers will be asking the question: 'What's going to happen?'"
Tim's so laid-back while Sally's such a snob. What does he see in her?
"The fact they're so different creates a lot of comedy. Maybe in reality they wouldn't be attracted to each other but, in the world of soap, their relationship means there's a lot of scope for the writers."
Are you looking forward to the live episode?
"Really, really looking forward to it. I've never done one before so it's all new for me and another first for me to tick off. I'm not incredibly nervous – as yet! I was in the West End every night for nine months and you get used to performing live."
Will there be a lot of comedy in this episode?
"It will be a combination of comedy and drama – funny stuff and tragedy. I'm very pleased it's going to be character driven, rather than being based around a big stunt."
If Tim doesn't marry Sally, might he hook up with Anna?
"I hope not! I think it'd be a real shame if you saw Tim have an affair – with Anna [Debbie Rush (opens in new tab)] or anyone else. It'd ruin it for me because it would be a bit of a cheap fix. The viewers seem to like Sally and Tim together – and Sally [Dyvenor (opens in new tab), who plays Sally] and I like it, too."
Are you hinting that they make up and get wed?
"I'm saying nothing! You'll have to watch the live episode and the ones after that to find that out!"
Coronation Street (opens in new tab), ITV.
Get the What to Watch Newsletter
The latest updates, reviews and unmissable series to watch and more!