Corrie's Kate Ford: 'Tracy goes crazy when she learns Carla gazumped her!'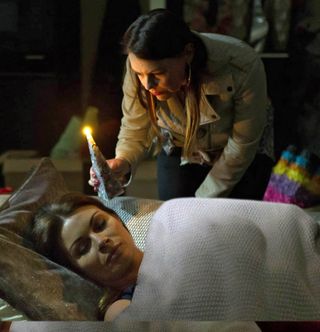 Carla's in grave danger when Tracy finds out she's the reason she won't be getting The Rovers, Coronation Street's Kate Ford tells Soaplife.
Arch enemies Tracy Barlow and Carla Connor have maintained an uneasy peace since Tracy saved Carla's life in the minibus crash. But Tracy declares all-out war when she discovers Carla's buying Liz's share of the Rovers, meaning Tracy's dreams of becoming landlady are in tatters.
"When Tony tells Tracy that Carla's gazumped them, she goes completely crazy," Kate tells Soaplife. "Carla's the worst person it could possibly be as Tracy still blames Carla for Rob being in prison and she feels like she's always getting one up on her."
Well, she is - and without even trying!
So, what does Tracy do?
"Tracy's really nasty and she holds nothing back. It's the morning of Steve [Simon Gregson] and Michelle's [Kym Marsh] wedding, but Tracy couldn't care less. She's angry, damaged, feels a failure and is lashing out. First, she tells Liz [Beverley Callard] about her affair with Tony. Liz is incredibly shocked and hurt."
What happens next?
"Devastated Liz tells Carla [Alison King] about Tracy and Tony [Terence Maynard]. Carla warns Tracy to stay away from the wedding. You'll have to wait and see if she does or not, but what Tracy does do is steal Carla's keys from her bag."
What for?
"She goes round to Carla's flat late at night. She has no idea what she's going to do. Once she's in there, she sees Carla asleep on the sofa and, for a split second, she contemplates killing her."
What?!
"Only for a second! Then she thinks, 'What am I doing?' I'm losing my mind!' and she leaves."
But Carla's flat does go up in flames, doesn't it?
"Yes, but we don't know who's to blame. Nobody knows, although it will come out as time goes on. When you watch it, it's a bit more complicated. There's a bit of a twist."
Coronation Street, ITV
Get the latest updates, reviews and unmissable series to watch and more!
Thank you for signing up to Whattowatch. You will receive a verification email shortly.
There was a problem. Please refresh the page and try again.