'Eva and Aidan have a private New Year's Eve party,' reveals Corrie's Catherine Tyldesley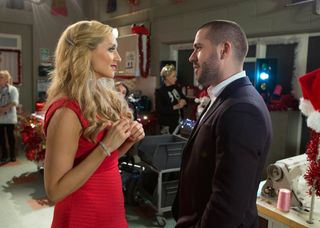 (Image credit: Joseph Scanlon)
Coronation Street's Eva ends up in Aidan's arms on New Year's Eve, Catherine Tyldesley (opens in new tab) tells Soaplife…
Has Eva fancied Aidan for ages?
"She's not been actively looking for a relationship, but she's loving the flirting and the obvious chemistry between Aidan [Shayne Ward (opens in new tab)] and herself. He's very easy on the eye."
So they get together on New Year's Eve?
"The attraction is mutual and, at the New Year's Eve party, they end up snogging the face off each other. Then they relocate to Eva's bedroom and have a private party of their own."
Is it just lust?
"I don't think it is. Eva's no pushover. She needs to feel a connection with someone before letting it go any further."
But next day Eva hears Aidan and Kate talking…
"Kate [Faye Brookes (opens in new tab)] comes into the pub and tells Aidan he owes her a drink as she bet him he'd sleep with Eva – and he has! Eva's furious and throws the drink over Aidan's head. It isn't the best start to the relationship!"
Will she forgive him?
"He's going to have to work very hard to win her round. After what she's been through with guys in the past, Eva won't settle for someone who messes her around. She wants someone she can trust."
Is Eva really ready for a new relationship?
"Eva likes having a man in her life. She'll always have feelings for her ex, Jason. He's a genuinely nice guy but he hurt her."
Do you think Aidan would be good for her?
"He does seem to bring the best out in her. We have a more serious storyline coming up between them, so you'll see a different side to Eva."
Coronation Street (opens in new tab), ITV.
Thank you for signing up to Whattowatch. You will receive a verification email shortly.
There was a problem. Please refresh the page and try again.