Eva Price and Adam Barlow get steamy at Christmas reveals Coronation Street's Catherine Tyldesley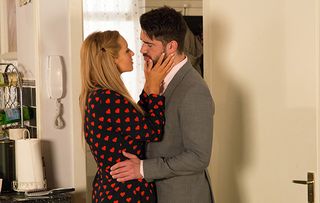 When Eva Price dresses up as a sexy reindeer to help out at Santa's grotto, Adam the Elf can't help but be attracted in Coronation Street. Sparks fly, says Catherine Tyldesley…
Amidst all the drama, Coronation Street always provides some comic relief at Christmas and this year it comes in the form of Eva Price and Adam Barlow getting steamy at the Santa's grotto!
What's the story?
"Billy the vicar decides to match-make Eva and Adam, and suggests Eva dresses up as a reindeer and Adam as an elf in order to help out at Santa's grotto," actress Catherine Tyldesley told Soaplife. Such is the naughty nature of Eva's costume, Adam's more than happy to help her out of it. Sadly you will have to wait for the episode to air to see Eva as a sexy reindeer!
What's happening in Coronation Street? See the latest soap storylines
Catherine Tyldesley tells how seeing Eva dressed as a sexy reindeer gets Adam all hot under his elf's collar in Coronation Street
Soaplife: Can you tell us about the reindeer costume?
Catherine Tyldesley: "It's so illegal! It's a Santa's grotto at a children's nativity performance and I felt bad actually wearing that outfit in front of kids! There's nothing fluffy about it - it's a bondagey reindeer! It's very fitted and shorter than short but I had big red knickers on so it was fine."
Soaplife: It certainly sounds as if Adam likes it…
CT: "When they go to get changed, Eva can't get the outfit off and Adam's like, 'I'll help you' and then things get a little bit more than steamy. But it's very funny."
Soaplife: What was your reaction when you read it in the script?
CT: "It's Eva to a tee. I wasn't at all surprised and also it's great because of Billy's reaction. When he sees Eva he says, 'Oh my God, this show is for the kids and the outfit is very Ann Summers.' Eva loves it, though. 'I look great,' she says. 'Let's go with it!'"
Soaplife: Does she really like Adam?
CT: "He's very charming and while he has a darker side, Eva very much sees him as Prince Charming because he's been there for her. I think it's really nice for the viewers to see that he has a softer side. Slowly but surely, as Adam has persisted and there's more time and distance between her and Aidan, Eva has fallen for Adam."
Soaplife: Is part of the attraction the fact that he's the one making the move on her?
CT: "For Eva, it goes back to Daddy issues. Not having a Dad means he always feels like she can't be on her own. She always feels like she needs a guy in her life. At the moment Adam's being very gentlemanly and he makes Eva feels safe. He's paying her lots of compliments and she doesn't see any negative side to him. He kind of ticks every box for her, so hence she's like – 'Ok, I can work with this, let's move on.'"
Soaplife: Do you feel she deserves a decent Christmas after the year she's had?
CT: "Absolutely. She's been through it - I know she's not whiter than white but I still think she has a good heart. She just doesn't think about the consequences of her actions and never has done."
Get the latest updates, reviews and unmissable series to watch and more!
Thank you for signing up to Whattowatch. You will receive a verification email shortly.
There was a problem. Please refresh the page and try again.