Catherine Tyldesley: Eva Price will fight for her baby girl - who looks just like Aidan!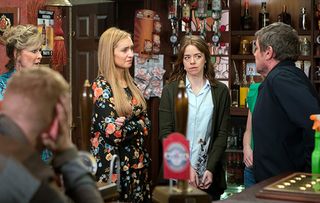 (Image credit: Andrew Boyce)
Coronation Street star Catherine Tyldesley reveals Eva Price gets her baby daughter back… and will stop at nothing to keep her!
Eva Price's maternal instincts kicked in as soon as she gave birth to little Susie, but she had made a secret pact with Toyah Battersby, to give up her baby to Toyah and Peter Barlow… Now she's got her baby back, but has a fight on her hands to keep her.
What's the story?
"So, Eva's super relieved, although shocked, when Toyah reveals that Susie is Eva and the recently-deceased Aidan Connor's child and hands Susie back to her," actress Catherine Tyldesley told Soaplife. When Aidan's dad Johnny finds out about Susie, though, he's determined his grand-daughter will become a proper Connor and vows he is going to fight for custody…
What's happening in Coronation Street? See the latest soap storylines
Coronation Star Catherine Tyldesley's interview with Soaplife about Eva Price's fight her her baby daughter, Susie…
Soaplife: Is Eva at all nervous about being a mum?
Catherine Tyldesley: "There is some fear there but she's more than ready to step up to the plate and become a mum to her little girl. Susie is Aidan's baby and looks so much like her daddy (pictured below). Eva just feels the need to be with Susie constantly and have that last little reminder of the man she loved."
S: What happens when Johnny storms in to the pub and demands answers?
CT: "Eva can tell straight away that he knows about Susie but she has always wanted to tell the Connors the truth from the moment Aidan took his own life. That was a game-changer and Johnny and his family need to know that a part of Aidan is still around. Although Eva's terrified and not sure how Johnny is going to react, she tells them exactly what has happened and hopes for the best. She wants Susie to know who her father was and to know his family."
S: But then Johnny starts custody proceedings!
CT: "Eva's completely shocked by this. When she first talks to Johnny, he reacts quite well and she believes everything's going to be OK. But she is unaware that he is hiding this overwhelming anger towards her. Eva is her mother's daughter and a fighter, though. She can give as good as she gets, which surprises Johnny."
S: Is she ready to fight for Susie?
CT: "So, so ready. Eva is not prepared to lose her little girl again. Much to everyone's shock, she is ready to play hard ball."
S: What advice would you give Eva?
CT: "If it was me, nobody would ever take my child away. I would stop at nothing!"
Coronation Street continues on ITV.
Get the What to Watch Newsletter
The latest updates, reviews and unmissable series to watch and more!