Josh Tucker is dealt a knock-out blow at Coronation Street's charity boxing match says Ryan Clayton!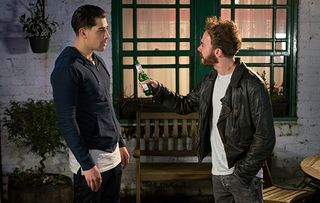 (Image credit: Andrew Boyce)
Coronation Street actor Ryan Clayton says Josh Tucker can't stop David Platt gate-crashing the charity boxing match and taking his anger out on poor Gary Windass…
It's the night of the charity boxing event, the one Josh Tucker has been using to make himself known in Weatherfield. In his head, he's visualised what a success it will be. But it doesn't go to plan…
What's the story?
Josh Tucker is trying not to think about the night he raped David Platt and doesn't want him anywhere near his precious boxing match. But when Tyrone Dobbs pulls out, David insists on taking his place and vents all his pent-up anger on poor Gary Windass…
Ryan Clayton's interview with Soaplife about Josh Tucker's boxing night drama…
What's happening in Coronation Street? See the latest soap storylines
Soaplife: Why is the boxing night so important to Josh?
Ryan Clayton: "It's his big thing and keeps him involved with everyone and the more involved he is, the more likely it is that people won't believe anything bad they may hear about him, it's very tactical. He's really looking forward to it,"
S: What goes wrong?
RC: "Tyrone pulls out of the event and Josh loses it - it's the first time his workmates see a different side to him. The calm, jokey, jovial lad who will sort anyone out now flips out at Tyrone. What has happened with David is getting to him."
S: The night he sexually assaulted David must be constantly on his mind?
RC: "There is a degree of inner turmoil but he's been very aware he mustn't let his mask slip. What worries him is the prospect of David going to the police, as he's been threatening to do. He needs David to keep quiet because Josh doesn't intend going anywhere. He likes it in the Street."
S: Then David insists on taking Tyrone's place at the boxing?
RC: "He does, and Josh loses his rag at him. He doesn't want David anywhere near this event, not just because of his epilepsy, either. But David takes no notice. He forces his way into the ring."
S: What happens?
RC: "David goes mad and properly beats up Gary Windass, putting him in hospital. Josh is stunned. But secretly he's also revelling in it because this is more ammo for Josh to prove that David is unstable if anything ever comes out."
S: What were your first thoughts when you were told about the male rape storyline?
RC: "I thought it was an issue that is not really spoken about and it's a story that needs to be represented. I was totally on-board. There have been times when I have been playing scenes and it has been tough but I've never had a problem with the storyline."
Coronation Street continues on ITV.
Get the What to Watch Newsletter
The latest updates, reviews and unmissable series to watch and more!