Kevin Webster makes a life or death decision in Coronation Street says Michael Le Vell!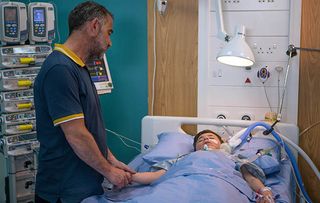 (Image credit: Andrew Boyce)
Coronation Street star Michael Le Vell reveals Kevin Webster's heartbreak over son Jack's sepsis nightmare!
Kevin Webster wouldn't wish his present predicament on his worst enemy. Young Jack Webster has sepsis and Kevin's told the boy is in danger of losing his life unless his son's foot is amputated.
What's the story?
"Kevin's in bits and he can't fathom the situation they're in and how things could have escalated so quickly," actor Michael Le Vell tells Soaplife. "It's a heart-breaking choice to be faced with and one Kevin really doesn't want to make, but he has no choice…" And, as a single dad, the decision is his – and his alone…
What's happening in Coronation Street? See the latest soap storylines
Michael Le Vell's interview with Soaplife about Kevin Webster's agonising decision in Coronation Street…
Soaplife: Kevin must still be in shock about Jack's sepsis diagnosis, let alone this latest bombshell?
Michael Le Vell: "Totally. He didn't know things could move so quickly from what he thought was just a little scratch. Kevin saw it and he wasn't concerned, yet Jack's life now hangs in the balance. He doesn't understand how a fit, young, footy-mad lad can suddenly be in this position."
S: Does Kevin have no option but agree to the amputation?
M LV: "He has to trust the doctors but it's tough. Jack was a promising little footballer and Kevin had high hopes for him. Then suddenly he's got a life-and-death situation on his hands and he finds himself in a world of despair."
S: How does Jack react when Kevin tells him about the amputation?
M LV: "He doesn't understand at first. He can still feel sensation in his leg when he wakes up and it's really confusing for him. When he starts to realise the implications, he cries and that breaks Kevin's heart."
S: Does Kevin really blame his daughter Sophie for what's happened to Jack?
M LV: "Kevin's battling a lot of emotions and there are a few days when he lays the blame at Sophie's door. He can't help thinking if he'd been around, he would have spotted the signs. Then when Sophie starts blaming the NHS and wanting to sue them for initially misdiagnosing Jack, Kevin goes mad. He asks Sophie why would you try and sue the people who are trying to save Jack's life?"
S: Can Kevin move forward and be strong for Jack?
M LV: "He has to. Right now, Kevin's still in shock. He's blaming himself, blaming Sophie, blaming the world… He has a reality check when he walks into the house and he sees Jack's football boots on the floor. Jack's life has changed for ever, but Kevin and Jack are a team. Kevin will end up being strong for his son and the whole family will support him."
S: How has it been working on this storyline with Kyran Bowes who plays Jack?
M LV: "He's only 11 but he's acted so professionally and he's being so mature. Kyran met with a family who've experienced this and it really brought it home to him. It's so important to raise awareness about this life-threatening disease."
Coronation Street continues on ITV.
Thank you for signing up to Whattowatch. You will receive a verification email shortly.
There was a problem. Please refresh the page and try again.