'Kevin's not ready for Jenny's apology,' reveals Corrie's Sally Ann Matthews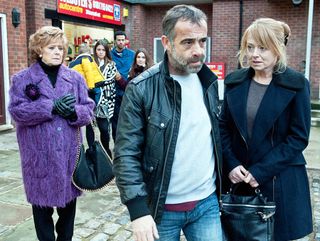 Bad penny Jenny Bradley returns to Coronation Street, reveals Sally Ann Matthews. And it looks like Rita's her only friend…
Jenny Bradley has been released from the secure unit she was placed in after she had her breakdown and kidnapped Kevin Webster's son, Jack. You'd think the last place she would want to show her face is on Coronation Street… but she does.
"She contacts Rita first because she's always been a mother figure to Jenny," Sally Ann tells Soaplife.
Is Jenny better?
"On the mend. She's been given medication and also received counselling to help her come to terms with the death of her own little boy and taking Jack as a result. Part of the healing process will be to say sorry to Rita [Barbara Knox] and Kevin [Michael Le Vell] and Sophie [Brooke Vincent]."
What happens when Jenny and Rita meet up?
"Jenny tells Rita all about her lovely new flat and says life couldn't be better. She explains she wants to apologise to Kevin and Sophie, but Rita says she doubts they're ready for that."
How does Jenny react?
"She's upset. She's been naively thinking the Websters will forgive her and put it in the past. Rita's words aren't what she wants to hear and she runs off."
What happens next?
"Rita tracks Jenny down and discovers she's been lying. She's living in a hostel with very basic accommodation."
Why does Rita offer her a home?
"Rita's worried. It's not so much the living conditions, more about the people around Jenny and the area she's living in. Rita doesn't think it's safe."
And back on the Street Jenny sees Kevin…
"She's overwhelmed and thinks maybe it's too soon for her, too. But she figures she may as well say her piece. She tries to explain, but it's not looking like Kevin will understand and forgive her – not yet."
How does Jenny feel about seeing Jack again?
"Sad – not because she still sees him as a replacement for the child she lost, but because she realises that if she hadn't taken him, they would probably be very, very close now. Jack is certainly delighted to see her."
And what about Kevin now being with Anna (Debbie Rush)?
"Jenny still has real affection for Kevin. I think it's mutual, but Kevin's far too terrified to be with her again. Jenny has to resign herself to the fact that he's moved on."
Coronation Street, ITV.
Get the latest updates, reviews and unmissable series to watch and more!
Thank you for signing up to Whattowatch. You will receive a verification email shortly.
There was a problem. Please refresh the page and try again.