Coronation Street's Lucy Fallon on Bethany Platt's new Nathan terror!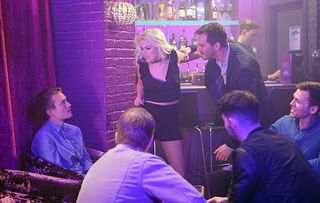 (Image credit: Mark Bruce)
Bethany Platt loses it in the lapdancing club when she's under threat and thinks she's seen Nathan, Coronation Street actress Lucy Fallon has revealed.
Coronation Street star Lucy Fallon has talked to Soaplife about the latest shock for abused teen Bethany Platt after she goes back to work at the lapdancing club.
What's the story?
It's only been a few weeks, but Bethany Platt's already had enough of working in the salon. She has a go at a male customer who pays her a compliment, then she storms out when she hears Audrey Roberts, David Platt and Craig Tinker talking about her.
"She needs a job and she hears Tassels has a new owner, so she asks her friend, Sam Bryce, to get her an audition," actress Lucy Fallon has told Soaplife.
But when a group of blokes start to manhandle her she freaks out and gets the shock of her life…
What's happening in Coronation Street? See the latest soap storylines.
Lucy Fallon's interview with Soaplife
Soaplife: Is Bethany pleased to be lapdancing again?
Lucy Fallon: "The club has changed from what it was like and now the girls are wearing much skimpier outfits. The manager hands her one of the bikinis, but she says she's brought her own clothes to wear. She still wants to call the shots, but she senses it might not be like it was when Lulu was running it."
S: What happens when she starts dancing?
LF: "The new owner makes her go and dance for one specific table of men out on a stag night. They keep trying to touch her, but no one tells them to stop. When she worked for Lulu, it was very much a no-touching policy. The men get up very up-close and she starts feeling very panicky, especially as she thinks she sees Nathan."
S: Nathan Curtis? What?!!
LF: "The 'stag' starts getting really in her face. Bethany has a total panic attack, flashing back to when she was with Nathan and his gang. All she can see in her head is Nathan. She grabs a bottle, smashes it on the table, then glasses him with it. It's very quick. She doesn't even have time to think. The next thing, the guy is bleeding everywhere and the police have been called."
S: What happens when she's taken to the police station?
LF: "She's charged with Grievous Bodily Harm and she's very upset. Sarah suggests she needs to get help and go back for more counselling. But, initially, Bethany's not sure it can help her. She's at a real low point."
S: How has the trauma with Nathan changed her?
LF: "It's changed her for ever. The lapdancing chapter is another part of that journey. She was doing the lapdancing because she felt like she was in control, but now she knows she wasn't. She's put herself in more danger and she may now have a criminal record."
S: Will this affect her relationship with Craig?
LF: "Craig blames himself and this starts to trigger his OCD, She notices he's behaving strangely but she doesn't understand. Hopefully she'll be there for him once she realises what he's going through."
Coronation Street, ITV
Get the latest updates, reviews and unmissable series to watch and more!
Thank you for signing up to Whattowatch. You will receive a verification email shortly.
There was a problem. Please refresh the page and try again.