Max is terrified as Callum collects him from school in Coronation Street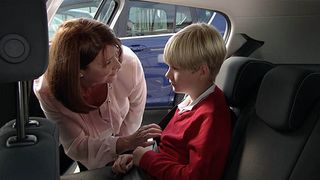 For some months now, Max has been at the centre of a custody battle between his biological dad Callum, and David, who has brought up the youngster with Max's mum, Kylie on Coronation Street (opens in new tab). Needless to say, the dispute has been nasty – very nasty – and has involved fake romance, assaults, and drug dealing.
But has Max finally made up his mind who he wants to live with?
When Max falls ill at school, his teacher is unable to contact Kylie, so Callum is called, and he and his mum go to collect the lad...
But Max is clearly not happy at this turn of events. Having seen Callum beat up Jason recently, it's no wonder he looks ill at ease as he sits in the back of the car.
Back at the Platts', David and Kylie are appalled when they realise Callum has taken Max from school!
Meanwhile, Callum drives terrified Max back to his flat. Could he be planning to kidnap the youngster?
Scared and nervous, Max demands to be taken home, telling Callum he no longer wants him to be his dad!
There's huge relief for Kylie and David when Callum brings Max back home.
Realising he's lost Max once and for all, Callum makes one last – massive – demand that leaves David and Kylie reeling. Will the couple pay a heavy price for winning Max?
Find out by watching Coronation Street (opens in new tab) on ITV on Friday, September 11
Get the What to Watch Newsletter
The latest updates, reviews and unmissable series to watch and more!