Rita thinks Gemma's robbed her and has her arrested, says Coronation Street's Dolly-Rose Campbell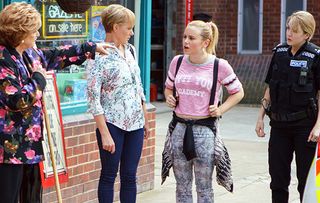 (Image credit: Mark Bruce)
Rita Sullivan calls the cops and disowns Gemma Winter after the Kabin is burgled in Corrie. Dolly-Rose Campbell opens up about the drama…
When Gemma Winter starts hanging out with some of her old Dog & Gun mates, it's only a matter of time before she finds herself in trouble in Coronation Street.
"Gemma seems keen to impress these two girls, Roxy and Zoe, and she invites them back to Rita Sullivan's place, where they start drinking," Dolly-Rose Campbell told Soaplife. "Rita's furious when she discovers what's going on, but not as furious as she is when she finds out she's been robbed and she's positive Gemma is to blame!"
Rita immediately calls in the police, who arrest Gemma!
Why is Gemma spending time with her dodgy old mates? "She's fallen out with Chesney Brown. Then Jenny Bradley [Sally-Ann Matthews], her other good mate in the Street, implies she'd have difficulty finding a man to marry her. Gemma feels alone and vulnerable. That's why she turns back to her old Dog & Gun pals."
But inviting them back to Rita's…? "She lives there and the natural thing would be to hang out with friends, have a few drinks and show how good her life is at this flat she's living in with this nice person. The thing is, Zoe and Roxy aren't nice people."
If Gemma knows this, why get mixed up with them? "She's forgotten how it was back when she used to hang out at The Dog & Gun. Now she's turned her life around and things are so much better for her. She's too trusting and she's taking everything at face value, but that's because she misses Chesney and she hasn't really got anyone else. So she tries to reconnect with these old girlfriends, but it goes horribly wrong."
How does she feel after upsetting Rita? "Rita [Barbara Knox]'s disappointment makes Gemma disappointed in herself and she feels more isolated than ever. Rita clearly no longer trusts her."
That's a shame… "Yes. Rita's friendship means everything to Gemma. Rita was the one who took her in when she had nowhere to go. She's really supported her in a way that nobody's ever supported her in her life. Gemma's come to rely on Rita like family. She was already feeling lonely, and she really is all on her own when things go sour with Rita."
Do you think Rita and Gemma will get their relationship back on track? "I really hope so, but we'll have to see. It's an interesting relationship, with Gemma almost being redeemed by Rita."
Coronation Street, ITV
Get the latest updates, reviews and unmissable series to watch and more!
Thank you for signing up to Whattowatch. You will receive a verification email shortly.
There was a problem. Please refresh the page and try again.