'Robert will have to make sacrifices for Tracy,' says Corrie's Tristan Gemmill...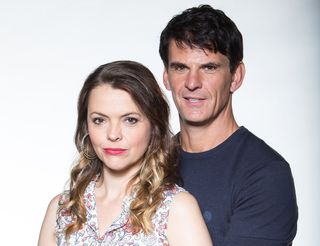 (Image credit: Joseph Scanlon)
Corrie newcomer Tristan Gemmill talks to Soaplife about his role as Tracy's ex, Robert Preston - who's not as available as he makes out...
Every new Corrie character has a secret and Tracy's ex, Robert, is no exception. While he's been reacquainting himself with his first wife, his second wife, Joni, has been holding the fort at their Cheshire restaurant…
Why doesn't Robert tell Tracy about Joni?
"The time's never seemed right. Circumstances have been getting in the way and when all is revealed about Joni [Sarah Harding], it's not the way he wanted it to happen."
Has Robert been carrying a torch for Tracy?
"Yes - he's had other relationships but they've never worked out and part of the reason is because no-one's ever managed to replace Tracy [Kate Ford] in his affections."
But does he know how bad she's been?
"He knows about her prison past and why she was there. He might not know about every little thing that's happened in the last few years but he's aware she has a tendency to get herself into trouble. He doesn't know about her part in the fire."
So what's the attraction for Robert?
"Some people are attracted to broken individuals – maybe it's like that with Robert. Maybe he thinks he can 'fix' Tracy. She's very volatile and perhaps he likes women like that. I mean, there's a certain amount of volatility in Joni, too. I think for Robert there's a thrill in being with someone who's a bit unpredictable."
If Robert's basically a nice guy then, what does Tracy see in him?
"Well, he's very persistent and doesn't take her 'no' for an answer. She quite likes that. Most men do exactly what she tells them and when he doesn't go away I think she's impressed by his persistence. She also likes him because he accepts her for who she is and knows her for what she is. She can't pull the wool over his eyes."
So, is Robert going to dump his wife for Tracy?
"It's complicated. Robert will have to make sacrifices if he wants to be with Tracy. And you can look forward to some very fiery scenes between Tracy and Joni, too."
Coronation Street, ITV.
Get the What to Watch Newsletter
The latest updates, reviews and unmissable series to watch and more!