'Sarah has no idea - yet - how dark Callum can be,' admits Corrie's Tina O'Brien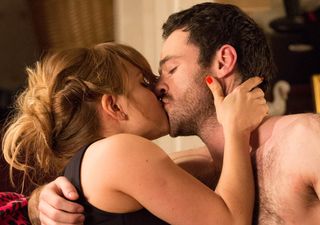 Sarah falls even deeper in lust with Callum on Coronation Street – and she remains oblivious to his evil scheming, warns Tina O'Brien…
Sarah Platt's so loved-up with Callum Logan that she's blind to his bad lad side. But when Kylie has a quiet word, Sarah's forced to open her eyes.
"Kylie tells Sarah that Callum is very bad news and, while everyone's been saying that, she does believe her sister-in-law – even though she's jealous of her - because she knows Kylie's quite straight," Tina (opens in new tab) tells Soaplife.
Sarah decides to put Callum to the test, but the consequences are more far-reaching than she can ever have imagined…
So Sarah's fallen head over heels for Callum?
"Yeah. She's really fallen for his charm, he's very persuasive and he seems to really like her. She needs that in her life right now."
How does she feel about Kylie being back on the scene?
"Sarah's jealous of her – Kylie [Paula Lane (opens in new tab)] and Callum [Sean Ward (opens in new tab)] have history and I think she secretly knows Callum had a real thing for Kylie."
What happens when Sarah questions Callum over what Kylie's told her?
"Kylie manages to convince Sarah that Callum's using her. She confronts him about it, saying, 'Look, I've been told this'. But it really backfires on Sarah because Callum goes off the deep end and he dumps her. He's very manipulative and Sarah plays right into his hands. She's gutted and decides she wants to return to Italy. She feels like there's nothing for her in Weatherfield now Callum's finished with her. She's like, 'Why am I even here? Let's go home!'"
That's not what Bethany wants, though…
"Bethany's horrified at the thought of them returning to Italy. That's how Bethany [Lucy Fallon (opens in new tab)] gets mixed up with Callum. Sarah would blame herself if she knew."
Do Sarah and Callum get back together?
"Yes. For now… But then Kylie and David [Jack P Shepherd (opens in new tab)] decide to spring a trap on Callum in the hope Sarah will see him for what he is and Sarah gets dragged to the Dog & Gun…"
What's the plan?
"Sarah's meant to think something's happening between them, but Callum's already figured what Kylie's trying to do. Callum says, 'Look, they tried to trick you, they're here to try and get you to dump me'. Sarah obviously believes him, and she tells them to get out."
So the plan backfires?
"If anything, it moves Sarah closer to Callum. The fact her family seem to be conspiring against her, for whatever reason, just pushes her further into his arms."
Where should Sarah's loyalties lie?
"With her family, but unfortunately Sarah's enveloped in a big lust bubble. She's still unaware just how dark Callum can be…"
Coronation Street (opens in new tab), ITV.
Get the latest updates, reviews and unmissable series to watch and more!
Thank you for signing up to Whattowatch. You will receive a verification email shortly.
There was a problem. Please refresh the page and try again.