Shona and David kiss! But Corrie star Julia Goulding says she still won't reveal her identity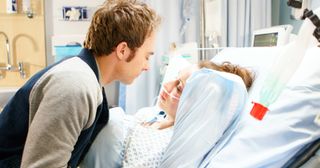 (Image credit: Mark Bruce)
Just as David Platt is getting up close and personal with Shona Ramsey, he may be about to discover who she really is! Julia Goulding (Gina) chats about the development
You can't keep a secret in Corrie. Even though Shona Ramsey's managed to keep her lips sealed about being the mother of Kylie's killer, Clayton Hibbs, it's surely only a matter of time before David Platt discovers the truth… and just when they're getting on so well!
"Shona feels worse about it by the day, especially now her romantic feelings for David have started start to grow," actress Julia Goulding tells Soaplife…
What does Shona see in David? "She likes that he's different to anyone she's been with before. She likes that he's funny and he makes her laugh, and she sees he's a good father."
How about her romantic feelings? "They've been bubbling for quite a while, but those feelings are definitely starting to surface. She does fancy him quite a bit."
We hear there's a kiss! "Yes. Shona's in hospital, having collapsed in pain while giving the police a statement about her ex, Nathan Curtis. David visits her and he kisses her. In that moment, her tummy flips and she's very happy!"
We're guessing there's a 'but'… "Yes, there is. It's fleeting because the reality of lying to him hits her. Shona desperately wants to tell David, but the closer she gets to him, the harder it is to tell him."
Tell us about David coming across Shona at Kylie's graveside… "She feels completely panicked and she has to think quickly. But whether that's spilling the beans or yet another cover-up lie…"
How will David react if she does end up telling him the truth? "David is not one to take things lightly, so I imagine it would be quite explosive if he did find out."
Does she regret coming to Weatherfield or does she now see the place as home? "She doesn't regret coming to Weatherfield because she's found a place in this community. She has a stable home, a stable job and she's met David. So even with everything else that's going on, she's glad that she has."
Get the latest updates, reviews and unmissable series to watch and more!
Thank you for signing up to Whattowatch. You will receive a verification email shortly.
There was a problem. Please refresh the page and try again.